Thursday, August 30, 2007
Mark Fuller sent me an e-mail awhile back, after I published a "Post" about some Air Tractors that had visited Pine Dock. The video is "stunning" and "exhilarating". To "cut to the chase", here is the link for my original "Post", followed by the video.
POST -
"Wildfire Suppression"!
VIDEO -
"Air Tractors"!
As Mark stated in his e-mail.......
"Nice flying"... "crop dusting at night"... "these boys have got some big brass ones"!
"Adios"!
Wednesday, August 29, 2007
OK, "Ladies and Gentlemen", time for "installment #22" in our "cockpit series", which will be a continuing "brain-strainer".
This is the "cockpit" of "the" ......................
***MYSTERY UNSOLVED!***
"Nice try", Spanky! "Sheesh"! Anyways, here is the "grand old girl", the Beriev Be-200. A Russian multi-role "amphibious" flying boat with jet engines. Gotta' love those Russian aircraft designers. The "sailboat fuel" multiplies again this week!
VIDEO -
Beriev Be-200 "In Action"!
Sunday, August 26, 2007
There is an Otter that I hear regularly in our "area" that flies out of Nestor Falls. I hear her regularly going to Onepine, Malette, Malaher, Keeper, Cairns, and Herod Lakes. I flew into all these lakes years ago, summer and winter, floats and skis, hauling Native families and trappers into and out of these lakes. One lake, Herod Lake, "stands out" in my mind. It is on the Keeper River system, and the old trapper who had the trapline on Herod Lake, William B. Keeper, swore to his final days that he knew where there was "gold" in the vicinity of the lake. "Farfetched"? Who knows, the "Red Lake gold fields" aren't that far away. Anyways, the Otter I will profile today services Outpost Camps at these lakes.
All information is from Karl Hayes' "masterful" CD entitled:
De Havilland Canada
DHC-3 OTTER
A HISTORY
CONTACT KARL, CD PRICING and ORDERING INFO -
De Havilland DHC-3 OTTER - A HISTORY by Karl E. Hayes
----------------------------------------------------------------------------
Otter 239
Otter 239 was delivered to the Indian Air Force on 7th March 1958 with serial IM 1725. After test flying at Downsview, it was packed into a crate and shipped to India, where it was re-assembled and entered service. All that is known of its Indian Air Force service is that it flew with 41 Squadron during 1962/63 and was involved in supporting Indian troops in their battle against the Chinese in the Walong region. It was later based at Palam Air Base, New Delhi during the years 1976 to 1980 again with 41 Squadron.
The Indian Air Force continued to fly the Otter until the type was formally withdrawn from the inventory on 31st March 1991 and the surviving aircraft offered for sale. The successful bidders for the Otters were Mike Hackman Aircraft Sales/La Ronge Aviation, who travelled to India to prepare the aircraft to be shipped back to Canada. IM-1725 was located at Barrackpore Air Base and had 6,357 hours on the airframe. It was one of eight Otters shipped from Calcutta by sea to Vancouver and then overland to Saskatoon where they arrived on 30th April 1994. Here the Otter was rebuilt by T.C.Aviation, a new engine fitted, ten passenger seats with individual passenger headsets, a carpet and an attractive white with blue trim colour scheme.
The Otter was registered C-FSOR in July 1994 to Westpoint School of Aviation Inc, Kelowna, BC and operated by Trevor Erhardt, trading as Air Hart, based in Kelowna as a floatplane on Lake Okanagan. It carried small Air Hart titles on the tail and in large letters "TOURS" on the side of the fuselage. It was named "Spirit of the Okanagan". Air Hart Floatplane Tours were located at the dock in front of the Grand Okanagan Lakefront Resort and Convention Centre at Kelowna. The company offered sightseeing flights over Lake Okanagan from several points around the lake, including Peachland, Summerland, Penticton and Vernon. Air Hart also offered 'Adventure Tours' including fishing trips to nearby lakes and golf packages to the Kokanee Springs Golf Resort. A novel venture was 'air biking' where up to eight cyclists were flown up to a nearby lake and then cycled downhill back to Kelowna.
After two years of this activity, the Otter was sold to Nestor Falls Fly-In outposts Ltd of Nestor Falls, Ontario to whom it was registered on 10th May 1996, named "Spirit of the North". It flew alongside the company's other Otter C-FODK (13). Their operation has already been described in relation to ODK. In April/early May 2004 SOR was at the Springer Aerospace facility at Sudbury, Ontario where it was repainted into the house colours of Nestor Falls Fly In Outposts, the same colours as worn by Otter ODK.
***Latest Update!***
Otter 239
C-FSOR. Nestor Falls Fly-In Outposts, Nestor Falls, Ontario. Converted to a Texas Turbine (conversion # 18) by Recon Air, Geraldton, Ontario during 2005.
- by Karl E. Hayes
---------------------------------------------------------------------
Old SOR now sports a "Garrett", which will keep her flying for many more years. As she lands at Herod Lake, maybe she hears William B. Keeper whispering, "Thar's gold in them thar' hills", but then again, maybe it's just the wind............
CONTACT KARL, CD PRICING and ORDERING INFO -
De Havilland DHC-3 OTTER - A HISTORY by Karl E. Hayes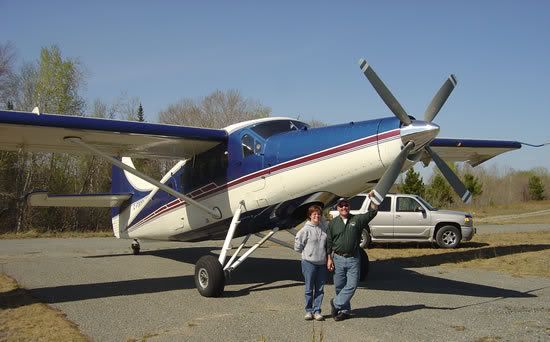 C-FSOR with her "Garrett"!
LINK -
Nestor Falls Fly-In Ouposts
Friday, August 24, 2007
Thursday, August 23, 2007
Yes, you saw them here "first", Folks! We all know the "travesty" of "judgement" and "human conduct" that was Abu Ghraib. The thing about Abu Ghraib was, it was "exposed" by "ethical and moral" Americans, and "rightly" so. If it had happened in an Islamofascist country, you wouldn't have heard a "peep" about it, the "bones" would have been found "20 years later". That is the "way in the West", you are accountable for your actions, and people strive to "be better", and if you commit a crime, you will have to "atone" for your actions. Anyways, I have received some new photos of "more abuse" happening in Iraq, "perpetrated" against children. Check out these unbelievable photos!
Armed American Troops force Iraqi kids to "seesaw" until they "talk"!
Iraqi child bites GI in "self defense" after "obvious torture"!
GI overheard to say "Talk or I'll tickle you till you pee!"
More "evidence" of "failed" US Intelligence policy!
Soldier attempts to eat Iraqi child!
Clear evidence of "forced labour" by US Troops!
Iraqi children grateful that American Forces did not "open fire" during soccer game!
Soldier "caught" at "Tickle-Torture" to "extract" intelligence!
GI forces Iraqi child to "hang by fingertips"!
GI attempts to "abduct" Iraqi child!
-------------------------------------
"Do you think?" Like I said, Abu Ghraib was an "aberration", but our people "over there" are some of the "finest human beings" this old earth has ever seen. "Support Them"!!! "Oh yeah", one last "photo", followed by the "newspaper write-up".
-"Comforting Embrace"-
Air Force Chief Master Sgt. John Gebhardt, of the 332nd Expeditionary Medical Group at Balad, Iraq, cradles a young girl as they both sleep in the hospital. The girl's entire family was executed by insurgents; the killers shot her in the head as well. The girl received treatment at the US military hospital in Balad, but cries and moans often. According to nurses at the facility, Gebhardt is the only one who can calm down the girl, so he has spent the last several nights holding her while they both sleep in a chair.
READ MORE ABOUT-
"HERO" Chief Master Sgt. John Gebhardt
In closing, "words from the soul" of Chief Master Sgt. Gebhardt: "I pray for the best for the Iraqi children. I can't tell the difference between their kids and our kids. The Iraqi parents have the same care and compassion for their children as any American."
Wednesday, August 22, 2007
OK, "Ladies and Gentlemen", time for "installment #21" in our "cockpit series", which will be a continuing "brain-strainer".
This is the "cockpit" of "the" ......................
(***Aug. 24 HINT!*** Blow the photo full-screen by clicking on it, the company "logo" is clearly visible! Good luck! "Squint" those eyes....!)
***MYSTERY UNSOLVED!***
Boy, were you guys close. I thought someone was finally going to "nail" it. The guesses were excellent, but there was one company left out. The cockpit photo is of an "ancestor" of those two famous Sproat Lake waterbombers, "Philippine Mars" and "Hawaii Mars". Yes, before he built the Martin "Mars", Glenn L. Martin built numerous other aircraft, including the Martin "MB-2". Nice try, "folks", next week's load of sailboat fuel will be a "B-Train"!
The Martin "MB-2"!
"Grand design"!
-photo by John Heck
INFO -
Martin "MB-2"
Monday, August 20, 2007
Now here is an Otter with a "storied" life. She has been all over the world, and today awaits "her rescue" from the "bottom of the earth".
All information is from Karl Hayes' "masterful" CD entitled:
De Havilland Canada
DHC-3 OTTER
A HISTORY
CONTACT KARL, CD PRICING and ORDERING INFO -
De Havilland DHC-3 OTTER - A HISTORY by Karl E. Hayes
----------------------------------------------------------------------------
Otter 131
Otter 131 was delivered to the United States Army on 26th June 1956 with serial 55-3282 (tail number 53282). It was assigned to the 2nd Aviation Company, Fort Riley, Kansas which later deployed to Germany, then France (as described in relation to Otter 124). The Otter was displayed at the Paris Air Show at Le Bourget airfield in June 1959. 53282 continued to fly for the 2nd Aviation Company until July 1966 when it went into storage at Coleman Barracks, Mannheim, Germany. In April 1967 it was assigned to the 67th Aviation Company at Stuttgart, until October '67 when it was transported back to the United States and then onwards to Vietnam, where it joined the 18th Aviation Company in March 1968.
From at least February 1969 onwards, 53282 served with the Company's First Platoon based at Marble Mountain, Da Nang. The Otter was named "Cajun Queen" and was still serving with the 18th Aviation Company when the unit stood down in March 1971. It went into storage with the 388th Transportation Company, Vung Tau where it remained until May 1971. It was one of five Otters shipped from Vietnam to Panama and which after overhaul were handed over to the Air Force of Nicaragua in June 1971 under a Military Air Program. The five Otters were loaded aboard ship at Vung Tau and transported to the Port of Balboa in Panama. From there they were taken to Albrook AFB, Panama where they were re-assembled by the Army's 590th Aviation Maintenance Company and handed over to the Fuerza Aerea de Nicaragua (FAN). 53282 took serial FAN-1012.
As explained in the Nicaraguan Air Force section, another FAN Otter (1015) was damaged on landing in the Nicaraguan jungle on 7th September 1976. In February 1979 a rescue effort was made to retrieve this Otter and bring it back to Canada. This effort was made by a Canadian pilot Paul Hajduk, assisted by Roy Westgate, who has written an excellent article, contained in the Nicaraguan Air Force section, describing the expedition. When they were in Nicaragua, they also purchased Otter FAN-1012, which had previously crashed, and the fuselage of which they found dumped behind a hangar at the Managua Las Mercedes Air Base. The two Otters were shipped from Managua to Miami, manifested as "scrap metal of aircraft, constructor's numbers 131 and 307, both involved in accidents". From Miami, the two Otters were then trucked north to Montreal.
The two Otters were then sold to York Realty Ltd of Duncan, BC and trucked across the country to Duncan on Vancouver Island. Parts from the two Otters were used in the re-building of Otter 288 which York Realty were working on. After that, both Otters were sold by York Realty Ltd to Harold J. Hansen, by Bill of Sale dated 10th September 1980 and were trucked via Vancouver to his facility at Boeing Field, Seattle for rebuild. On 11th September 1980 Harold Hansen applied for registrations for both Otters, and was allocated N8510Q for number 131 and N8510T for number 307.
Otter 131 was noted during October 1980 at Harold Hansen's facility at Boeing Field under rebuild. Parts from Otter N48148 (115) were used for the rebuild of 131. At this stage of its career, 131 had a total airframe time of 2,150 hours. As the rebuild neared completion, 131 was sold by Mr.Hansen to James J.Harkey of Auburn, Washington by Bill of Sale dated 4th May 1981. Two days later he applied for a change of registration from N8510Q to N58JH. The Certificate of Airworthiness for the aircraft issued on 2nd June 1981. Mr Harkey has dealt in several Otters over the years (including 77 and 307) but N58JH was used for his personal transportation, flying from its base at Auburn, to the south of Seattle. Painted in an attractive red and white scheme and on amphibious floats, it was named "Liebe Brigitte".
After eight years in the ownership of Mr.Harkey, the Otter was sold by Bill of Sale dated 24th May 1989 to Glacier Bay Airways Inc of Gustavus, Alaska and was delivered the following month to its new owners. The acquisition of the Otter was part of a strategy to upgrade to larger aircraft, from the Cessna 206s which had been used by Glacier Bay Airways up to then. That same month Glacier Bay also purchased Otter N5323G (91), the intention being that N58JH would be operated as an amphibian and N5323G on wheels. Sadly N5323G was lost on its delivery flight on 8th June 1989 when the engine failed and it ditched and sank in the Grenville Channel en route to Gustavus. On board the Otter were $30,000 worth of spares for the new operation and the wheels of N58JH.
The loss of N5323G caused a re-think of the strategy but N58JH did go into service with Glacier Bay Airways, flying from Gustavus for the summer of 1989. Tourists and kayakers were flown to outlying wilderness areas. Another task for the Otter was flying school basketball and volleyball teams to games all over the panhandle. N58JH was then sold by Bill of Sale dated 3rd January 1990 to Ketchikan Air Service Inc, thus bringing to an end the Otter operations of Glacier Bay Airways. N58JH was acquired by Ketchikan Air Service for $250,000. It was ferried to Salinas, California for conversion to a Vazar turbo Otter by Serv Aero and after another long ferry flight up along the west coast, it arrived at its new base at Ketchikan, Alaska on amphibious floats, proudly taxiing onto the Ketchikan Air Service ramp shortly after 9am on the morning of 31st January 1990. It carried 'Turbine Express' titles on the engine cowling.
Having served the Alaskan panhandle for nearly two years, its next assignment was to be a most interesting one. An organisation called Adventure Network International offered tourist trips to the Antarctic, starting in 1987 using Douglas DC-4 N4218S and later Antarctic Air Douglas DC-6B N41840. Those taking part in these adventure trips made their way by scheduled airline to Punta Arenas at the southern tip of Chile. From there they were flown by the DC-4 and later the DC-6B to a camp at Patriot Hills on the Antarctic continent. The American aircraft was later replaced by DC-6B C-GBYB chartered from the Canadian company Conifair. The Ketchikan Air Service turbo Otter N58JH was also chartered by Adventure Network International, to be based at Patriot Hills to fly tourists around Antarctica, specifically to the South Pole.
This involved a massive ferry flight from Alaska to Antarctica, a distance of some ten thousand miles. N58JH was fitted with ferry tanks at Ketchikan and started off on 10th October 1991 with a relatively short hop from its Ketchikan base to Prince Rupert, BC. Continuing south along Canada's Pacific coast, the Otter landed next at Vancouver, on 13th October and then at Paine Field, Seattle. From there it crossed the Rocky Mountains to Casper, Wyoming. A long flight across the plains of the central United States followed, landing at Jackson, Mississippi. The routing from there was via Panama City, Florida over the Gulf of Mexico to Miami and onwards down the Florida keys to Key West. Flying over Cuba, the next stop was at Georgetown on Grand Cayman Island and thence over the Caribbean to Panama City, Panama. (Interestingly, it was again visiting Panama 21 years after it had arrived there back in 1971 to be made ready for service with the Nicaraguan Air Force). From Panama the flight continued into South America, next fuel stop at Guayaquil, Ecuador. From there it proceeded to Lima, Peru and onwards via Arica in Chile, Santiago and Puerto Montt to the southernmost tip of Chile at Punta Arenas. Having changed its wheels for skis, its final sector was south over Cape Horn and across the Scotia Sea to its new base at Patriot Hills. It was no doubt the first Otter to land on Antarctica since the survey and exploration Otters of the late 1950s and 1960s.
Tourists were flown to the camp from Punta Arenas on board the DC-6B, which landed on the ice. The Otter was then used to fly the tourists to various locations, and by means of pre-positioned fuel caches, the Otter was able to bring its passengers in a multi-sector operation all the way to the South Pole. Although the cost of all this was understandably very expensive, and only available to tourists with deep pockets, N58JH became exposed to a much wider audience when it featured extensively in the BBC Television series 'Pole to Pole' with Michael Palin. In this series, Mr Palin and his film crew were endeavouring to proceed from the North Pole to the South Pole by surface means. They had got as far as Capetown, South Africa in December 1991, from where a ship was meant to bring them to the Antarctic, but it left without them. To retrieve the situation, they flew to Punta Arenas and then by the DC-6B to Patriot Hills and onwards in the turbo Otter to the South Pole.
This is an excellent series of television programmes, well worth viewing, particularly the last episode which features the DC-6B and Otter extensively, including some awe-inspiring take-offs by N58JH from rough ice strips. In the programme, the Otter is shown operating a one and a half hour flight from Patriot Hills to the Mount Vinson Massif, as well as the flight from Patriot Hills to Thiel Mountains (King's Peak) and onwards to the South Pole, landing at the US Navy's McMurdo Base, the scene of much Otter activity years before when the VX-6 Squadron Otters were based there.
Sadly however although the Antarctic is a place of great beauty it is also a most demanding environment and in February '92, at the end of the season, N58JH sustained damage to its port wing at position 80 south 79 west, some thirty miles from its Patriot Hills base, and had to be abandoned there for the southern winter. The following September a rescue mission was mounted using Basler Airlines Turbo DC-3TP N300BF. The DC-3 took off from its base at Oshkosh, Wisconsin on 3rd September 1992. Between then and 11th September it flew to Brownsville, Texas-Guatemala City- Guayaquil, Ecuador-Lima, Peru-Antofagasta, Chile-Santiago, Chile-Puerto Montt-Punta Arenas, Chile, a distance of 7,950 hours covered in 44 flying hours. On 15th September it flew from Punta Arenas to Jones Sound Glacier, a distance of 860 miles in six flying hours. Here the crew made camp and dug a fuel cache out of the snow. The following day they flew from Jones Sound to Patriot Hills, dropped off some people, and then flew to the location where Otter N58JH was still sitting on the ice. As Paul Votava, the captain of the DC-3 recalls: "We repaired the damaged wing on the Otter in less than an hour. Then we dug the rock-hard snow from around it, and melted the snow from inside the control surfaces, wings, fuselage and tail - this took three days. The battery and engine were warmed and started just fine. Both the DC-3 and the Otter then flew to Patriot Hills. The weather was terrible, at times -40C with wind gusts reaching 125 knots".
On 3rd November 1992, as the Otter took off from Patriot Hills for its return flight home, the pilot lost control and N58JH ground looped and was wrecked. The Otter was salvaged, with the engine, instruments and all other parts that could be removed loaded onto the Basler Turbo DC-3 N300BF to be brought home. All that remained at Patriot Hills were the fuselage, wings and tail, which were used at the camp for support and shelter. Even the fuel was taken from the Otter and burned in the DC-3 on the first leg of the return trip home. N300BF took off from Patriot Hills on 19th November '92 and flew to Fossil Bluff in just under seven hours. On 21st November it continued on to Rothera, the British Antarctic Survey base and on 25th November flew on to King George Island, refuelled and continued on to Punta Arenas. From there the routing was to Santiago-Arica-Guayaquil-Guatemala City-Houston, Texas-Milwaukee Oshkosh, arriving home on 6th December 1992. It had been a massive effort to recover the Otter from the Antarctic, sadly only returning with what could be salvaged. The parts from the Otter were sent from Oshkosh back to Ketchikan and the engine from N58JH was installed in N53KA (355), one of Ketchikan Air Services other Otters. By that stage, back in the Antarctic, the Conifair DC-6B had been replaced by another DC-6 N1597F (in fact, a former US Navy C-118B) belonging to Allcair Air Transport. On 26th November 1993 this DC-6 flew into rising terrain at Patriot Hills while on visual approach to the 'Blue Ice' landing strip. Although no one was killed, the aircraft was totally destroyed.
By Bill of Sale dated 4th March 1995 Ketchikan Air Service sold the Otter to James J. Harkey, its former owner and in August 1995 N58JH was again registered on the US Civil Aircraft Register to Mr Harkey. In January 1997 ownership was transferred to Kenmore Air Harbor Inc of Kenmore, Seattle but these are logbook entries only, the aircraft itself being a wreck sitting on the Antarctic ice.
- by Karl E. Hayes
---------------------------------------------------------------------
Another "Tale" from the "Otter Files". Unbelievable machine. In closing, I have one comment: "Hey Kenmore, any plans to rescue 'Grand Old Dame' Otter 131? I am sure she just needs a little surgery, and she would be as good as new"!
"Thanks, Karl"!
CONTACT KARL, CD PRICING and ORDERING INFO -
De Havilland DHC-3 OTTER - A HISTORY by Karl E. Hayes
Friday, August 17, 2007
Tired of the daily "drudgery"? Your "boss" wants the "spreadsheet" by 10 AM, but you broke the lead in your pencil, and can't find your pencil sharpener? You look out the window and wonder about the "real world"? Come on, "follow me", let's go to the "summit"!


VIDEO -
Let's Go To The "Summit"!



Thursday, August 16, 2007
Last week I hauled 26 "Elders" and "Young 'uns" from the community of Poplar River out to Weaver Lake, on the Poplar River system, to a traditional place called "Pinesewapikung Saagaigan", which in English means "Thunder Mountain Lake". I "Posted" last year about Pinesewapikung Saagaigan in a post called
"Pinesewapikung Saagaigan" Healing Camp!
Anyways, during my trips, I seemed to see an abundance of items "Made in Canada".
On the docks in poplar River, ready to load up. I was soon airborne with the first "load".
When I landed at Weaver Lake and unloaded, I was given a "letter", which was definitely "Made in Canada". I guess the "stone hammer and chisel and slate" weren't available, so "cardboard and a Sharpie" was used!
View from the camp.
Here is the traditional "Teepee", definitely "Made in Canada".
Tents for lodging, definitely "Made in Canada".
The "cook shack" and "gathering area" were definitely "Made in Canada". Then something caught my eye.......
"Damn", look at this boat! A 20' wooden canoe! Would I ever like to own one of these!
"Yup", "Made in Canada"! The "last word" of my "Post" goes to two products "Made in Canada", the one in the background has "Legendary Status" in Canada, and also "worldwide"!
"Adios"!
Wednesday, August 15, 2007
OK, "Ladies and Gentlemen", time for "installment #20" in our "cockpit series", which will be a continuing "brain-strainer".
This is the "cockpit" of "the" ......................
***MYSTERY SOLVED!***
It is the cockpit of the Convair B-36 "Peacemaker"! The B-36 was known as "6-turnin', 4-burnin'", as it had six Pratt & Whitney R-4360s of 3,800 horsepower each, and four General Electric J47s of 5,200 pounds thrust each. 10-engined "female"! LoadMaster wins the "sailboat fuel"! "Way to go"!
CHECK OUT A -
B-36 "Peacemaker" Restoration!
Monday, August 13, 2007
Today I made 3 trips to
Sasaginnigak Lodge
, taking fishermen into the camp, and bringing fishermen out who had completed their "adventure". On my third trip back, I was racing a "severe" weather system. I made it back OK, before the "high winds, lightning, and thunder" started. Just before I landed at Pine Dock, I heard; "Pilatus MPZ is 40 miles south of Little Grand Rapids, Runway 18 in 8 minutes". Yes, the "RCMP" Pilatus PC-12s are "quick". Of course my cranial "vegetable soup" started to "burble". I figured there had to be an Otter named CF-MPZ in the "storied" past of the RCMP Air Division. "Guess what"? There sure was, and it is a "story". Let's let Karl tell it.........
All information is from Karl Hayes' "masterful" CD entitled:
De Havilland Canada
DHC-3 OTTER
A HISTORY
CONTACT KARL, CD PRICING and ORDERING INFO -
De Havilland DHC-3 OTTER - A HISTORY by Karl E. Hayes
----------------------------------------------------------------------------
Otter 328
Otter 328 was delivered to the Royal Canadian Mounted Police (RCMP), Air Division, on 29th March 1960, registered CF-MPZ. It was first based at St.John's, Newfoundland. The Otter crashed 21 miles north-east of Point Saunders, Newfoundland on 1st March 1961 and was substantially damaged. On that day, the Otter with a pilot and two passengers on board, departed from St.Anthony, Newfoundland en route to Port Saunders. The flight was uneventful until the aircraft began to lose height while flying at low altitude over mountainous terrain. Despite the application of power and lowering the flaps, the aircraft continued to lose height and struck the ground at approximately 85 mph in a slightly nose-up attitude.
The Otter continued for a few seconds across the top of a rocky, treeless and snow covered hill. It then became airborne momentarily and touched down again prior to commencing a climb. The pilot considered that he had lost rudder control, but over Port Saunders ground observers advised that the rudder and tail wheel assembly were intact. The flight then continued to Gander Airport, where a landing was made without further incident. The underside of the rear fuselage, the tail wheel ski assembly and the right main ski had been badly damaged. The accident report concluded that when approaching mountainous terrain from the leeward side, the pilot was unable to maintain sufficient height to recover safely from the effect of a downdraft, and the aircraft struck the ground. After temporary repairs at Gander, a ferry permit was issued for a flight to Ottawa, where MPZ was repaired, after which it returned to its base at St.John's.
MPZ continued flying from St.John's until it was written off at Deer Lake, Newfoundland on 27th September 1971. As that report summarised: "Engine failure; material failure of exhaust system; power loss; aircraft force landed in a bog and destroyed in post crash fire". This crash provided the RCMP with a long-sought opportunity to add a helicopter to the fleet. Bell 212 CF-MPZ, the same registration as had been carried by the Otter, would prove ideal for the rugged conditions and notoriously bad weather of the coastal areas of Newfoundland, also providing twin-engined safety.
- by Karl E. Hayes
---------------------------------------------------------------------
"Wow", the old Otter hit "mountainous terrain" and made it back to base. "Robust" aircraft. Too bad about her "demise", but her "legacy" lived on in a Bell 212, and now lives on in a Pilatus PC-12, both "proudly" bearing the RCMP "logo", and the Otter's registration, CF-MPZ. "Thanks, Karl"!
CONTACT KARL, CD PRICING and ORDERING INFO -
De Havilland DHC-3 OTTER - A HISTORY by Karl E. Hayes
Friday, August 10, 2007
Doug Burton, "fellow pilot" and "barley swiller" sent me this vid of a Husky in action. We all know of the Husky's STOL performance, but do you think they can actually fly backwards? Let's find out..........


VIDEO -
"Hovering", in a "Husky"!



Thursday, August 09, 2007
OK, "Ladies and Gentlemen", time for "installment #19" in our "cockpit series", which will be a continuing "brain-strainer". Capt. J. R. Desmarais "would be proud"!
This is the "cockpit" of "the" ......................
***MYSTERY SOLVED!***
It is the cockpit of the Vickers "Vanguard", immortalized in Captain Jack Desmarais' "masterful saga" of the crew of "Down East International". I used to love reading the exploits of Capt. "Ace McCool" and fellow employees, Pete Braddock, The Smarts, Churchy Laflamme, Cowboy McCloskey, Red Starr, T.I. (Totally Inept) Jacobs, Stew Jane, Crazy Iris, Mile-High Millie, and Phil Lister. Only the "Ace" could do an approach into Moncton at "200 and a half" and fly "inverted" past the tower in the old "Mudguard"! Lance wins the "sailboat fuel"!
READ MORE ABOUT -
Capt. Jack Desmarais and Ace McCool!
Monday, August 06, 2007
Northway's new "amphib" Caravan has been busy during the weekdays, flying the "sched" connecting Little Grand Rapids, Pauingassi, and St. Andrews, MB. During the weekends, Doug Burton has been coming to Pine Dock, with amphib Caravan C-GNWG, to help out me and Otter UKN when we are busy. Some "camp work" alleviates some of the "monotony" one can experience flying "sched". Anyways, we have also been hauling canoers, and have been testing the Caravan's suitability hauling "externals". Well, she has "passed" with "flying colours", when hauling a maximum of 4 people, gear, and 2 canoes. Let's take a "bush trip".........
Early AM, by Windigo Lake, on the Pigeon River. I am picking up Huck Cammack and crew with Otter UKN, while Doug and Caravan NWG take fishermen to
Sasaginnigak Lodge
. Doug will join me on my second trip, as we have 12 more canoers and 6 canoes to retrieve from the "mouth" of the Pigeon River.
I am "anchored" to the shoreline at the mouth of the Pigeon, and Doug and NWG arrive and "touchdown"..........
.......taxi behind me.........
......and "anchor" to shore. "Damn", the anchors have come in handy during this "high water" year!
Finally, canoes tied on and loaded, we are both ready to leave. Doug and NWG leave first, as he is parked "down-wind" from me.
There will be 4 "lovely ladies" and 2 canoes waiting for Doug and NWG, as they will have to make a second trip.
Doug "stokes the boiler"..........
......and "breaks water"! I soon follow him!
Back at Pine Dock, I await Doug and NWG, as they arrive from the second trip with the 4 "lovely ladies". The canoes ride "beautifully", and are "rock solid".
The "left side" canoe "butts" against the rear ladder, and doesn't move, the right side canoe is secured so that the "air-stair" opens without conflict while the canoe is secured.
Anyways, the Caravan does quite well with 4 pax, 2 canoes, and gear. If these are the limits, it is quite safe. Below are some "numbers of interest" in regards to
"Caravan", and "Canoes" !
-------------------
1) T/O Power through the climb.
2) Power back to 1300-1400 ft./lbs. Torque for cruise.
3) Prop back to 1750 RPM for cruise.
4) 110 to 115 kts. indicated.
-------------------
The Caravan can be run at a higher power setting and airspeed, but our canoe trips are all between 30 and 70 miles, so Doug just brings the power back and let's the young girl "loaf"! Till next time.......
"Adios"!
Sunday, August 05, 2007
Today we look for another Otter that I have "flown". I flew this aircraft between 2002 and 2005, after she had her 1000 HP "Pezetel" installed. She was, and still is, a "workhorse". Built like a "sturdy Ukrainian Baba", which I mean with the "highest respect", her day isn't done until the "work is complete".
All information is from Karl Hayes' "masterful" CD entitled:
De Havilland Canada
DHC-3 OTTER
A HISTORY
CONTACT KARL, CD PRICING and ORDERING INFO -
De Havilland DHC-3 OTTER - A HISTORY by Karl E. Hayes
----------------------------------------------------------------------------
Otter 386
Otter 386 was delivered to the Union of Burma Air Force on 23rd September 1960 with serial UB 656. The Air Force took delivery of nine Otters, three in December 1958 and a further batch of six in 1960/1961. All were packed into crates and shipped to Burma where they were re-assembled and entered service. Burma was subsequently re-named Myanmar. Its Air Force aircraft were re-serialled, adopting Burmese numerals, equivalent of the old serial with a '4' prefix and deleting the UB. Thus UB 656 became 4656, depicted on the side of the aircraft in Burmese numerals. The Burmese Otters were withdrawn from service in 1985 and stored.
In 1989 six of the Burmese Otters were purchased by a Canadian aircraft dealer and shipped to Canada, but 4656 was not included and remained in Myanmar. During 1995, with the founding of the Defence Services Museum in Yangdon (where Otter 277 is on display), the Myanmar Air Force rounded up all of its historic aircraft, which were spread far and wide throughout the country, moving them to the Air Base at Mingaladon. Here the authorities made a careful selection of the machines to be restored and exhibited. The remainder were put up for sale. Throughout 1997 and 1998, Golden Aviation of Rolla-Vichy, Missouri carried out negotiations with the Myanmar government, and were ultimately successful in acquiring the complete package. During 1999, seventeen containers were dispatched from Mingaladon to Rolla-Vichy containing three Spitfires, a Seafire, three Percival Provosts, four Bell 47 helicopters, two DHC-1 Chipmunks and the Otter. As one report, entitled "Massive Operation Recovers Burmese Treasures" noted : "Otter 4656, a little bruised after its transportation and the subject of an insurance claim, would seem fit for many more years of commercial bush flying".
Golden Aviation were primarily interested in the "warbirds", and the Otter was put up for sale. It was sold in September 2000 and trucked from Missouri to Silver Falls, Manitoba, the base of its purchaser South Peace Services Ltd. It was registered C-GHYB to South Peace Services on 23rd April 2001. Following its re-build and re-engining with a Polish PZL one thousand horse power engine, it was registered to associated company Blue Water Aviation Services Ltd, also based at Silver Falls, Manitoba on 13th May 2002. It entered service alongside the company's other Polish-engined Otter C-GBTU (209), flying tourists, fishermen etc., to remote parts of Manitoba during the summer months.
- by Karl E. Hayes
---------------------------------------------------------------------
This aircraft is still owned and operated by Blue Water Aviation Services, and still has the 1000 HP Pezetel engine installed. I hear her "daily", usually flown by "friend" and fellow "Bush Rat" Johnny Friesen. Check out some of my "pics" of C-GHYB.
"Spring", 2005. HYB has the Hamilton Standard "DC-3" prop installed.
Flying a boat to "Hobbs Lake".
"What the"....?
No, your eyes aren't failing you. I flew a "septic tank" to Sabourin Lake.
Removing the DC-3 prop, and re-installing the 4-bladed Pezetel prop. I did not like the "harmonic airframe vibration" caused by the DC-3 prop. The 4-blader is a much better "mate" to the engine, airframe, and governor, though the performance is not quite as good as with the DC-3 prop.
Me, HYB, and a "Texas Tackle Box"!
"Yup", this "old girl" knows "how to work"!
"Adios"!
CONTACT KARL, CD PRICING and ORDERING INFO -
De Havilland DHC-3 OTTER - A HISTORY by Karl E. Hayes
Thursday, August 02, 2007
OK, "Ladies and Gentlemen", time for "installment #18" in our "cockpit series", which will be a continuing "brain-strainer". Look to the "stars".....
This is the "cockpit" of "the" ......................
***MYSTERY SOLVED!***
It is the cockpit of the Lockheed P-3 "Orion", an outstanding "airborne hunter"! Lance wins the "sailboat fuel"! "Way to go"!!