Friday, March 31, 2006
A number of years back,
NASA
tested a fuel-additive that was supposed to suppress post-impact fire in airliners, at it's
Dryden Flight Research Center
. Board the plane and get a first-hand account to determine whether or not the test was successful.
VIDEO -
R/C Flying "Texas-Size"!
------------------------------------
***NOTE*** - Here is the NASA description of events.
In 1984 NASA Dryden Flight Research Center and the Federal Aviation Administration (FAA) teamed-up in a unique flight experiment called the Controlled Impact Demonstration (CID), to test the impact of a Boeing 720 aircraft using standard fuel
with an additive designed to suppress fire. The additive FM-9, a high molecular-weight long chain polymer, when blended with Jet-A fuel had demonstrated the capability to inhibit ignition and flame propagation of the released fuel in simulated impact tests.
On the morning of December 1, 1984, a remotely controlled Boeing 720 transport took off from Edwards Air Force Base (Edwards, California), made a left-hand departure and climbed to an altitude of 2300 feet. It then began a descent-to-landing
to a specially prepared runway on the east side of Rogers Dry Lake. Final approach was along the roughly 3.8-degree glide slope. The landing gear was left retracted. Passing the decision height of 150 feet above ground level (AGL), the aircraft
was slightly to the right of the desired path. Just above that decision point at which the pilot was to execute a "go-around," there appeared to be enough altitude to maneuver back to the centerline of the runway. Data acquisition systems had been activated, and the aircraft was committed to impact. It contacted the ground, left wing low. The fire and smoke took over an hour to extinguish.
This flight, called the Controlled Impact Demonstration (CID), was the culmination of more than a year of preparation in a joint research project by NASA and the FAA to test the effectiveness of anti-misting kerosene (AMK) in a so-called survivable impact. Added to typical Jet A fuel, the AMK was designed to suppress the fireball that can result from an impact in which the airstream causes spilled fuel to vaporize into a mist.
The plane was also instrumented for a variety of other impact-survivability experiments, including new seat designs, flight data recorders, galley and stowage-bin attachments, cabin fire-proof materials, and burn-resistant windows. Crash forces were measured, and a full complement of instrumented crash test dummies was carried on the flight.
The aircraft was remotely flown by NASA research pilot Fitzhugh (Fitz) Fulton from the NASA Dryden Remotely Controlled Vehicle Facility. Previously, the Boeing 720 had been flown on 14 practice flights with safety pilots onboard. During the 14 flights, there were 16 hours and 22 minutes of remotely piloted vehicle control, including 10 remotely piloted takeoffs, 69 remotely piloted vehicle controlled approaches, and 13 remotely piloted vehicle landings on abort runway.
It was planned that the aircraft would land wings-level and exactly on the centerline during the CID, thus allowing the fuselage to remain intact as the wings were sliced open by eight posts cemented into the runway. The Boeing 720 landed askew and caused a cabin fire when burning fuel was able to enter the fuselage.
It was not exactly the impact that was hoped for, but research from the CID program yielded new data on impact survivability which helped establish new FAA rules regarding fire prevention and retardant materials. Although proponents argued that AMK prevented a hotter, more catastrophic fire during the CID, FAA requirements for the additive were put on the back burner.
------------------------------------
(with "Thanks" to Ruud Leeuw!)
"Hang on, you Dummies!"

Thursday, March 30, 2006
Wednesday, March 29, 2006
Steve's Video Of The Day: Next Best Thing To "Women and Beer!"........
Hey, when some "good old boys" get together and have a good time, hopefully there are women and beer present. No "women and beer"? Then it is time to strap on the "spurs", take to the skies, and "wow" the crowd!

VIDEO -
Next Best Thing To "Women and Beer"!........
Tuesday, March 28, 2006
Steve's Video Of The Day: HMS Invincible, Harriers, and a ....Jaguar?
Leisure time on a British aircraft carrier.
VIDEO -
HMS Invincible, Harriers, and a ...."Jaguar"?
HMS Invincible!

Monday, March 27, 2006
Searching for "Fossils" at "Jurassic Park"
Yesterday, March 26, I took my son Shane to Gimli. He had a hockey practice, as he made the Interlake Regional Team for 1st year Bantam hockey players. The kids are required to be at the rink 1 hr. beforehand, so I had an hour to kill, as I also wanted to watch the practice and get some new ideas for hockey drills, as I coach also. Anyhow, I thought I would head to "Jurassic Park" to see if there were any "fossils" to be seen, as there have been numerous sightings as of late, and "prehistoric rumblings" have been shattering the early-morning stillness of the air, awakening local residents. By the way, "Jurassic Park" is also known as the Gimli Industrial Park Airport. I pulled in by Skyline Maintenance and Avionics and shutdown my Dodge, and proceeded warily on foot. Off in the distance something blocked out the sun.
A "Mastodon"?

"Wooly Mammoth"?

"Brontosaurus"?

Damn! Curtis C-46 "Commando" C-GTPO!

Marilyn Monroe, James Dean, Elvis Presley, and Humphrey Bogart are aboard peering out the windows!

"Damn fine lines"!

"Hello"! A "Velociraptor"?

Nope, Douglas DC-3!

History embodied!

CF-FTR

I get a "woodie" around these airplanes. "Prehistoric masterpieces"!

Raw power!

This DC-3 is running Pratt and Whitney 1830-92 engines, a 14 cylinder, twin-row configuration.

Another C-46!

Thoughts of the "Burma Hump" come to mind.......

This "giant" can "bellow and roar"!


Then, I looked at my watch, and realized practice would soon be starting. As I turned to leave, I heard a voice shouting from the other side of C-46 C-GIBX. A small, elderly gentleman appeared from behind a motorhome parked beside the C-46. He approached me, and we chatted for awhile. Lo and behold, it is a small world. He lives in Nebraska, but comes up to Canada in the spring. He is familiar with the area, as he once had a paint shop at St. Andrews Airport, but sold it in 1988. Yup, you got it, it was ................."Pistol Pete"!!! I took a photo of him, and he took one of me, and we parted ways, after chatting awhile longer!
One "fossil" I hadn't foreseen encountering! "Pistol Pete"! Yes, "Jurassic Park" has many surprises!

Myself beneath the "tented" left engine of C-46 IBX, "Pistol Pete" photographing.

In all seriousness, folks, Gimli Industrial Park Airport is a great place to see some fantastic aviation specimens. All 3 aircraft in the photos are on-line, and fly daily. They are owned and operated by FNT Transport, and haul freight to northern communities. Every morning, at "Jurassic Park", a "Pratt and Whitney" symphony can be heard...............
Sunday, March 26, 2006
Steve's Video Of The Day: Alaska and a DC-3
Alaska and a DC-3. Sounds like a rather "scenic and fulfilling" place of employment. A person could sit in the "infield" for hours watching different aircraft types, and when no aircraft are landing or departing, lengthen your gaze to the tremendous, mountainous "vista" in the background.
VIDEO -
Alaska and a DC-3

Steve's Video Of The Day: "FlyMig.Com"
I am glad to see the "entrepreneurial spirit" is alive and well in Russia after suffering for so long under the "gun butt of Communism".
VIDEO -
"FlyMig.Com"
WEBSITE -
"FlyMig.Com"
Saturday, March 25, 2006
....If not but for the "Grace of God", there go I..........
Fantastic men and women, and free society's debt to them is immeasurable.
VIDEO -
In "Harm's" Way....
Allied Aircrew Memorial

Friday, March 24, 2006
The "Real" Spirit Of America........
Received an e-mail tonight from Spirit of America, thought I would share it. My last post about Spirit of America was called
U.S. Cavalry Arrives in the "Nick of Time"!
, in which S of A shared with us some GOOD news about people being helped in Iraq. Anyways, here is the e-mail.
---------------------------------------------------------------------------
Dear Supporters and Friends!
Spirit of America was honored at a special reception in the Roosevelt Room at the White House last Tuesday, March 21st. President Bush and the First Lady thanked Spirit of America and our supporters for our contributions to the people of Iraq and Afghanistan. Several other non-profits doing great work in Iraq and Afghanistan were also recognized. Spirit of America was represented by Peggy Findley who runs operations in our Los Angeles office.

During the hour-long session, the President recalled a very emotional meeting he had in the Oval Office with seven Iraqi men who, under Saddam's regime, had been punished by having their right hands amputated and black tattoos of crosses carved into their foreheads. They received prostheses and rehabilitation through the generosity of the American people, including Spirit of America supporters who donated to our project
Iraqi Amputees Offered Restoration of Life and Limb
. This project was specifically set up to help these Iraqi men with their transportation costs and recovery.
One year later, Iraqi Amputees adjusting well to new hands
.
Thank you dear friends and supporters. We share this acknowledgement with you, since you make it all possible. And, to our courageous men and women serving in Iraq and Afghanistan who go above and beyond their official duties to help the local people where they serve, the President's recognition of Spirit of America is, in fact, recognition of you.
All the best,
The Spirit of America Team
--------------------------------------------------------------------------
The President's Statement
(Following are the President's remarks released from the meeting.)
President Bush: "I want to thank you all for coming. Laura and I have really enjoyed our visit.
We're talking today to people who have decided to try to help improve the lives of folks in Afghanistan and Iraq. And I just marvel at the fact that Americans from around our country have heard a call to help somebody realize the benefits of freedom. You know, governments can help, and we will help. And obviously, we've got a brave military trying to secure freedom in Afghanistan and Iraq. But one of the real powerful parts of developing civil societies in these two countries is the fact that fellow citizens are willing to interface with citizens in Iraq and Afghanistan.
We've heard stories about Afghan women education programs and Iraqi Fulbright programs and programs to help hospitals and programs to welcome intellectuals -- all aimed at helping these societies that were once brutalized by tyrants realize the great benefits and blessings of liberty. We've got -- I'm sure a lot of our citizens don't realize this, but there are thousands of, we call them social entrepreneurs, who are figuring out ways to help improve the human condition in these two liberated countries.
And I want to thank you all very much. It's heartening to hear your stories and it makes me -- once again gives me great reason to be proud of our country and the people who live here. So thank you all for coming. God bless your work."
----------------------------------------------------------------------------
So, the "Spirit of America" is alive and well, let's hope it catches on in all nations. If it doesn't, I dread the alternative............
Steve's Video Of The Day: "Cossack in Canada"!
"Damn!" I looked at the alarm clock. 2:30 AM. The "trailing edge" of my "dream" dissolved into the netherworlds like the last wisp of smoke from a dying campfire. That same, recurring dream. A "Cossack" thundering along majestically. You know the "Cossacks", the famous Ukrainian and Russian horsemen. It is a topic of speculation that had the "Cossacks" been dispatched, the Russian Revolution of October 1917 may have been prevented. They weren't, it wasn't, Russia became "infected" with the Bolsheviks. Anyways, this "Cossack" dream keeps recurring. I have had it before.
Cossack "Dream" 1
Cossack "Dream" 2
Cossack "Dream" 3
Now I believe there have been sightings of a "Cossack" in North America, and right here in Canada.
VIDEO -
"Cossack in Canada"!
Lock up your silverware, and hide the women and children-folk!!!!!
Thursday, March 23, 2006
Steve's Video Of The Day: Airshows: "Beware"!
Airshows are a fine spectacle, and the safety rules have been tightened in recent years. So, enjoy the Airshows, but keep your "wits about you". Be like "Snagglepuss", always ready to ..."Exit, stage left............"
VIDEO -
Airshows: "Beware"!
Wednesday, March 22, 2006
Steve's Video Of The Day: "Man, Those Russians"......
The great
Igor Sikorsky
is my favourite aviation designer, a brilliant mind. The other Russian designers, Tupolev, Mikoyan, Gurevich, Antonov, just to name a few, shared Sikorsky's innovativeness and brilliance. That tradition continues to this day, as a Sukhoi front-line fighter shows off it's "agility"!
VIDEO -
"Man, Those Russians"......
It is either an Su-30 or a 2-seat Su-37, both having canards. The Su-37 is a single-seater, but "scuttlebutt" says there were a few 2-seaters made. The Russians are outstanding with their thrust-vectoring technology!
Tuesday, March 21, 2006
Steve's Video Of The Day: From "Baritone to Soprano": "One" for the "Canadian Public"......
"Humour and truth" at it's finest!
VIDEO -
From "Baritone to Soprano": "One" for the "Canadian Public"......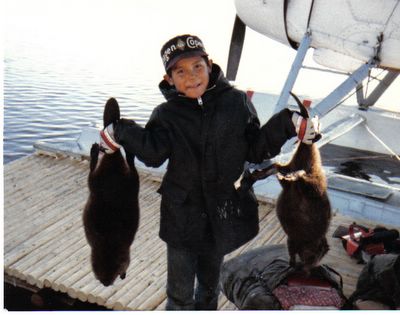 Due to the heavy tax burden, Beavers once again in Canada became a source of warmth, sustenance, and income.........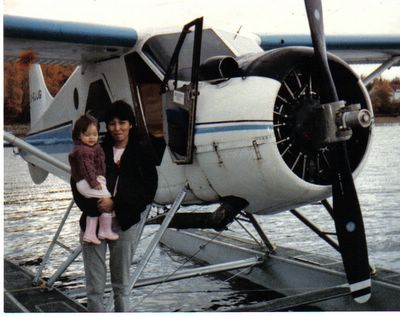 ..........and increased transportation, also!