Tuesday, October 31, 2006
"Dear God, Please, Look After Our Kids"............They are in "Harm's Way".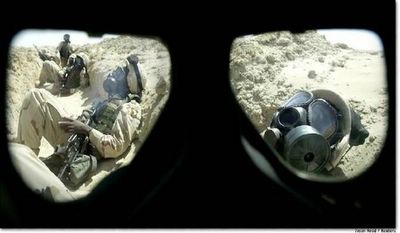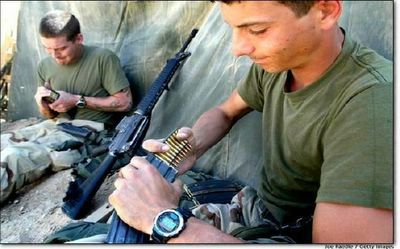 They are "Our Best", please keep them safe. "Amen".

-a prayer by all Canadian parents
At 6:30 AM Doug "banged" on my door, and I told him to "enter"! "Holy Shit", he said, "it is still snowing like a banshee"! Sure enough, the snow continued exponentially due to the "open water" of Lake Winnipeg, and the wind direction. We headed for the airport, "plowing" snow with my Dodge.
Doug's aircraft, Caravan NWV.

The Airvan "shivers"............

The "Bowling Alley" shivers..........

Finally, around noon, the weather started to improve, and we could start to clear the runway and taxiways.
Out on the snow, nothing runs like a "Deere"........(Remember that "jingle"...?)

We didn't get a foot of snow, but close. The runway "reappears".

Doug finally heads south!

After Doug left, I headed for the Float Base. Yesterday, the M.V. "Edgar Wood" had arrived to "berth" for the winter against our breakwater. The M.V. Edgar Wood is the Manitoba Highways Ferry that connects Bloodvein River Indian Reserve with the mainland, and is Captained by David Stefanson.
The M.V. "Edgar Wood"!

I think Captain Dave's timing was impeccable.



Ready to "hibernate"...........

.........but "Unforgiving Lake Winnipeg" does not yet "sleep"!

When the rains come, watch how the wetlands retain the moisture!


VIDEO -
Jared in Alaska; "Wetlands", Nature's "Flood Control"!



Monday, October 30, 2006
"Today", in Pictures!
Today a major storm was supposed to "whack" Manitoba, and it eventually did. Our sched service, two airplanes, departed St. Andrews Airport this morning, and made all points north. Of course the storm arrived two hours early, and "diversions" were necessary for the southbound scheds. Walter Turbine Otter, C-FVQD, servicing Pauingassi and Little Grand Rapids, made it south to Silver Falls, and landed at Blue Water Aviation's Base. Caravan C-GNWV, servicing Bloodvein River and Poplar River, made our Base at Pine Dock, as the heavy snow was only about 20 miles south. Company van shuttles were dispatched to pick up southbound passengers, and although a slight inconvenience, everyone made their destination safe and sound, and that is the "prime directive". Anyways, I took the opportunity to snap some pics of Northway Aviation's Grand Caravan. Here is..........
......C-GNWV, before the clouds "opened up"!

Fine-looking "ship"!



"Workhorse"!

Well-outfitted "office"!

Then, Doug "McLeod" Burton, who was flying NWV, and I, decided to take a ride to Matheson Island, to pick up some "overnight necessities" for Doug, as there is a store there. We would have to cross a channel between Matheson and the mainland by cable-ferry, operated by Manitoba Highways.
The Lake Winnipeg "self-propelled" barge, the "Poplar River", in the background, as Doug and I head across on the ferry. The weather is just starting to arrive.

As we approach the "Island", whitefish boats, high and dry for the season, greet us!

The cable ferry is the "C.F. Ingemar Carlson".

As we left the ferry, we were greeted by the WAMAIR Service and Outfitting sign, so we thought we would take a "tour" past their Float Base. We never expected to find..........

........an Otter!

"Girl", it is October 30th! Get south like the geese, and get off "Unforgiving Lake Winnipeg"!

This is DHC-3 Otter, S/N 445, C-FRHW, owned by Venture Air, from Thompson, MB. One "frozen" ship!

We had to have a "peek" inside. Yup, "Standard Otter". Fantastic "pieces of iron"! We did our business, visited the "boys" at Wamair, returned by ferry, and cleaned off the Caravan before any precip froze to it. Tomorrow, we start again! Till next time,........"Adios"!