Sunday, August 26, 2007
There is an Otter that I hear regularly in our "area" that flies out of Nestor Falls. I hear her regularly going to Onepine, Malette, Malaher, Keeper, Cairns, and Herod Lakes. I flew into all these lakes years ago, summer and winter, floats and skis, hauling Native families and trappers into and out of these lakes. One lake, Herod Lake, "stands out" in my mind. It is on the Keeper River system, and the old trapper who had the trapline on Herod Lake, William B. Keeper, swore to his final days that he knew where there was "gold" in the vicinity of the lake. "Farfetched"? Who knows, the "Red Lake gold fields" aren't that far away. Anyways, the Otter I will profile today services Outpost Camps at these lakes.
All information is from Karl Hayes' "masterful" CD entitled:
De Havilland Canada
DHC-3 OTTER
A HISTORY
CONTACT KARL, CD PRICING and ORDERING INFO -
De Havilland DHC-3 OTTER - A HISTORY by Karl E. Hayes
----------------------------------------------------------------------------
Otter 239
Otter 239 was delivered to the Indian Air Force on 7th March 1958 with serial IM 1725. After test flying at Downsview, it was packed into a crate and shipped to India, where it was re-assembled and entered service. All that is known of its Indian Air Force service is that it flew with 41 Squadron during 1962/63 and was involved in supporting Indian troops in their battle against the Chinese in the Walong region. It was later based at Palam Air Base, New Delhi during the years 1976 to 1980 again with 41 Squadron.
The Indian Air Force continued to fly the Otter until the type was formally withdrawn from the inventory on 31st March 1991 and the surviving aircraft offered for sale. The successful bidders for the Otters were Mike Hackman Aircraft Sales/La Ronge Aviation, who travelled to India to prepare the aircraft to be shipped back to Canada. IM-1725 was located at Barrackpore Air Base and had 6,357 hours on the airframe. It was one of eight Otters shipped from Calcutta by sea to Vancouver and then overland to Saskatoon where they arrived on 30th April 1994. Here the Otter was rebuilt by T.C.Aviation, a new engine fitted, ten passenger seats with individual passenger headsets, a carpet and an attractive white with blue trim colour scheme.
The Otter was registered C-FSOR in July 1994 to Westpoint School of Aviation Inc, Kelowna, BC and operated by Trevor Erhardt, trading as Air Hart, based in Kelowna as a floatplane on Lake Okanagan. It carried small Air Hart titles on the tail and in large letters "TOURS" on the side of the fuselage. It was named "Spirit of the Okanagan". Air Hart Floatplane Tours were located at the dock in front of the Grand Okanagan Lakefront Resort and Convention Centre at Kelowna. The company offered sightseeing flights over Lake Okanagan from several points around the lake, including Peachland, Summerland, Penticton and Vernon. Air Hart also offered 'Adventure Tours' including fishing trips to nearby lakes and golf packages to the Kokanee Springs Golf Resort. A novel venture was 'air biking' where up to eight cyclists were flown up to a nearby lake and then cycled downhill back to Kelowna.
After two years of this activity, the Otter was sold to Nestor Falls Fly-In outposts Ltd of Nestor Falls, Ontario to whom it was registered on 10th May 1996, named "Spirit of the North". It flew alongside the company's other Otter C-FODK (13). Their operation has already been described in relation to ODK. In April/early May 2004 SOR was at the Springer Aerospace facility at Sudbury, Ontario where it was repainted into the house colours of Nestor Falls Fly In Outposts, the same colours as worn by Otter ODK.
***Latest Update!***
Otter 239
C-FSOR. Nestor Falls Fly-In Outposts, Nestor Falls, Ontario. Converted to a Texas Turbine (conversion # 18) by Recon Air, Geraldton, Ontario during 2005.
- by Karl E. Hayes
---------------------------------------------------------------------
Old SOR now sports a "Garrett", which will keep her flying for many more years. As she lands at Herod Lake, maybe she hears William B. Keeper whispering, "Thar's gold in them thar' hills", but then again, maybe it's just the wind............
CONTACT KARL, CD PRICING and ORDERING INFO -
De Havilland DHC-3 OTTER - A HISTORY by Karl E. Hayes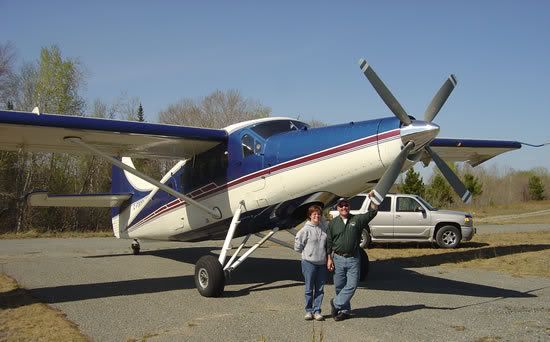 C-FSOR with her "Garrett"!
LINK -
Nestor Falls Fly-In Ouposts