Monday, July 31, 2006
Steve's Video Of The Day: North American Aircraft/Rockwell International B-1B "Lancer"!
What a brute! A tremendous asset! Now converted from her "Cold War" Nuclear Mission role, the B-1B stands ready to meet new threats in her Conventional Mission role! Check her out!
VIDEO -
North American Aircraft/Rockwell International B-1B "Lancer"!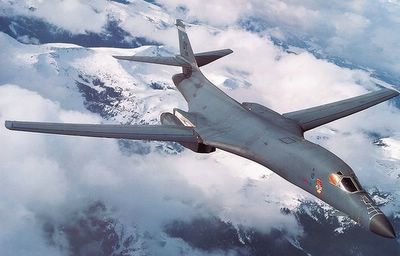 Sunday, July 30, 2006
In days past, to get the "Marines" to the fight, a transport aircraft and a transport helicopter were both needed. Today both roles can be filled by the V-22 "Osprey". Basically a large helicopter that converts to a fast turboprop airplane for flight. Let's watch it in action.
VIDEO -
Bell/Boeing V-22 "Osprey"!


LINK -
V-22 Osprey! Lots of INFO!
Saturday, July 29, 2006
A "Pawn" in "Life's Grand Scheme".........
A "Pawn Lake", that is. Pawn Lake is on the headwaters of the Etomami River system in Manitoba, about 35 miles east of the community of Berens River. Berens River is on the east shore of "Unforgiving Lake Winnipeg". It is a shallow lake, and produces a large quantity of "wild rice" every year. The lease on the lake to pick the rice is held by Laurie Gaffray from Silver Falls, Manitoba. I personally have hauled numerous loads of rice from this lake in the "Fall". With this information in mind, we recently took a Manitoba Forestry crew into Pawn Lake. They will be studying the rate of forest regrowth around the Etomami River and the Berens River locally, as there has been logging occurring in the area for many years. Having been familiar with the lake previous was a bonus, as I knew where the deeper water channels were, and where the rice doesn't grow. In no way would we want to damage any of the rice. I have always stated that taxiing an aircraft through thick standing rice on a rice lake is like driving a pickup truck through a mature wheat field, and is to be avoided. The rice is not yet standing above water, but nevertheless, all due caution was applied when considering landing and taxiing areas. It was a beautiful day at Pawn Lake when I dropped the boys off.
"City boys", dropped off in "the bush"! No "7-11" close by, boys!

These boys had a lot of gear.

UKN "towers" in this picture!

"Bush" transportation. You can make a case for all aircraft involved, of which contributed most to the development of northern Canada. The "hands-down" winner is the de Havilland Otter. The Beaver is a great aircraft, but never accomplished close to what the Otter accomplished. From Antarctica to the Arctic, operating in temperatures from +50*C to -50*C, the Otter is an "unsung hero"! Don't believe me? Ask a "higher authority"! Ask........."Max Ward"!

This is Laurie Gaffray's "rice-picker" at Pawn Lake.

During rice season he will attach a 24' "header" to the front to scoop the rice, and attach a "prop" to the engine, making it a "pusher".

That is a 350 CI Chevy engine, folks, "balanced and blueprinted".





Heading south after dropping the boys off, here is what the "winter road" that goes past Pawn Lake looks like in the summer. "Winter Road", is self-explanatory", as this swamp would have a hard time supporting a vehicle when not frozen!

Then I hit the Berens River, and I enjoyed the scenery on the way back. So, what "awe-inspiring" views did you have at work today? Till next time, "Adios"!

Steve's Video Of The Day: R/C "Sky-Diving"?
You bet! For those sky-diving enthusiasts that don't personally want to become a "meat missile" and "deplane" from a perfectly-running aircraft mid-flight, here is the alternative. It actually looks like it could become a great hobby!
VIDEO -
R/C "Sky-Diving"?
Thursday, July 27, 2006
Steve's Video Of The Day: Imagine "The View".....
Could you just imagine the "adrenaline rush" from a leap as such? This guy has big "Kahunas"! This looks like it could have been filmed in the
"Angel Falls"
region of Venezuela!
VIDEO -
Imagine "The View".....
Wednesday, July 26, 2006
A few days back I took some fellows into Reefy Lake (the name says it all)! Reefy Lake is at the headwaters of the "Goose Creek" drainage area, which eventually flows into the Berens River, and is just north of Viking Lake, which is on the Pigeon River. I used to fly them in years back, and hadn't seen them in awhile. Gord, Pat, and Dwayne, now bringing their sons with them. Great to see. The "elder boys" were a little older and greyer than I remember, but I guess vice-versa also. Gord, Dwayne, and Pat figured in a remarkable episode that happened years ago, and we "rehashed" the whole affair so their sons could hear the story again. I will leave a LINK for the story at the end of my "post". Anyways, we loaded up (I'm sure the guys used to bring more beer), and we were "airborne"!
Arrival at "Reefy Lake"!

The "fish cleaning shed"! My mind wandered back, and I remember "the smoke"............


The boys built this cabin in 1983, and still own it to this day.

We finished unloading, we all "bullshitted" a little more, and Gord told me he had missed coming for the last 2 years. I asked "why"?, as Gord always came to the camp a couple of times a year. He told me the story, and my jaw dropped. Some of the key components to the story were an "11-storey balcony", a "river", and "gravity", and of course "numerous injuries". Let's just say he looked good, and the rest of the story is for "his Blog". Anyways, I bid them "adieu", fired up UKN, and taxied out. I have to pick them up July 27th.
Taxiing out........

Quite the "rocky shoreline"........

Reefy Lake geography! Have you ever seen water "so blue"? Till next time, "Adios"! (make sure you click on the LINK and read the following "previously-occurring" story!)

LINK -
UKN Saves The Reefy Lake Boy's Bacon!!!
Steve's Video Of The Day: Aviation: A "Kaleidoscopic" Compilation!
Self-explanatory! Watch!

VIDEO -
Aviation: A "Kaleidoscopic" Compilation!
Sunday, July 23, 2006
Steve's Video Of The Day: "Fine Display of Unprofessionalism"
What was this guy thinking? Obviously out to try and impress or "scare the shit out" of his passengers. To top it off, lands beside 2 small children at the end. Don't try this at home, what a "BONEHEAD"!
VIDEO -
"Fine Display of Unprofessionalism"
Saturday, July 22, 2006
On Friday, December 17, 2004, I made a "Blog post" regarding an experience I had one day while flying "trappers" in the bush, many years back. I experienced true "silence", and it was while waiting for my friend Joseph Owen beside his "trapper's cabin" at Frances Lake. Read my original "post" to get the background story.
ORIGINAL POST -
The Silence Is Deafening At Dogskin Lake
Then in January of this year, I was asked to do a Blog for Aviation.ca, a great Canadian Aviation website, and I gladly agreed to. I also placed my "The Silence Is Deafening At Dogskin Lake" story on the Aviation.ca website. Well, this past week I received a comment on my "post" at Aviation.ca about the trapper's cabin tucked into the trees. The comment took me back in time, and I could see the "trapper's cabin" again in my "mind's eye". Following is the comment.
----------------------------------------------------
Comment from: James Kullbom
Just found your story and was stunned. My son and I fish Dogskin Lake
and after going by the trapper cabin for years, we stopped there last
month. The two cabins are still full of Joseph's belongings and have not
been disturbed except by critters. The calendar is November, 1993. His
snowshoes, canoe, axe, saws and rods are still intact. We found a picture of
him fileting walleye. Also found his trappers license. All still there.
-----------------------------------------------------
Wow. I was "stunned" to read the comment, and have tried to contact James for more information. November 1993 would have been around the time Joseph had his stroke. Anyways, I was glad to receive the comment, and amazed to hear everything was still at Joseph's cabin, basically awaiting his return. Read the post from the Aviation.ca website, including the actual comment.
POST and COMMENT -
The Silence Is Deafening At Dogskin Lake
HOME -
Aviation.ca
I hope in the next month or so I can take my camera, re-visit Frances Lake and Joseph's cabin, and once again return in time to November, 1993................
Steve's Video Of The Day: North American T-28 "Trojan"!
The North American T-28 "Trojan" was a 1950s-built "trainer", and was powered by the outstanding Wright Cyclone R-1820 "radial" engine. Hey, let's start one up and take her "for a rip"!
VIDEO -
North American T-28 "Trojan"!
(video by -
"vidassassin"
)
LINK -
North American T-28 Trojan

Thursday, July 20, 2006
Steve's Video Of The Day: Igor Sikorsky's "Legacy" Continues...: "UH-60 Black Hawk"!
Wednesday, July 19, 2006
My Week In Pictures!
Another week has come and gone, and UKN and I "flogged the bush" all week. Flew canoers, hauled lumber, got a quick float repair, flew more canoers, flew low, etc., etc.! This is how it was, in random and unchronological order!
Arrive at Silver Falls and be "drydocked" for a float repair.


A CanCar "Tree Farmer" skidder, the perfect machine for pulling large aircraft from the water.

Send Remy into the float to find the leak.

"Found the leak"!

After a couple of hours, the boys put her back in the water, after replacing some rivets and resealing the float, and I was northbound!

Lumber-hauling was on the "agenda" this week.


Load some canoer's packs, ............

.......then load the canoers, 6 young Americans going on a month-long canoe excursion. Wow! The dental industry in the U.S. is very "robust" judging by the "gleam" from these 6 "10,000 watt, million dollar smiles". Outstanding.

Tie on "another" canoe..............

.........and another...........

Ready!

Drop canoers at Artery Lake, on the Bloodvein River.........


Disprove the "skeptics" that state trees can't grow from "solid rock". Canadian "Shield Country", fantastic geography! Sparkling waters, loaded with fish!

At the end of every day, fly low back to Base over "Unforgiving Lake Winnipeg", sometimes seeing UKN's "shadow". Notice the "turbidity" of Lake Winnipeg water at this time of year. A "Great Inland Sea"!

Hey! Calder's Dock! Just about home! Looking forward to another evening of "whisky and stories" with "the boys"! How was your week? Till next time,.........."Adios"!