Monday, April 10, 2006
I Posted the other day detailing the progress Forde Lake Air Services was making as they readied their floatplanes for Spring, entitled
Forde Lake Air Services "Prepares for Spring"....
. Well, the "amorous couple" from that previous Post finally got cozy, and were mated. If you have never witnessed an Otter being "hung", well, stick around!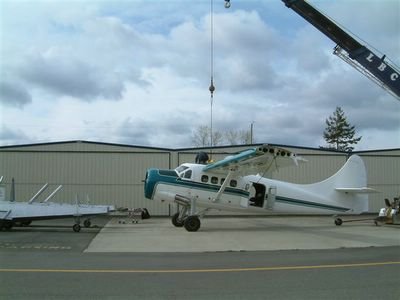 Stalwart Otter C-FBEO has the lifting harness attached, as the floats await.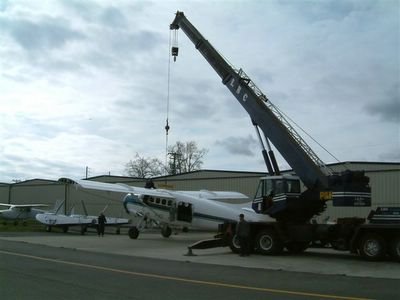 Preparing to lift..........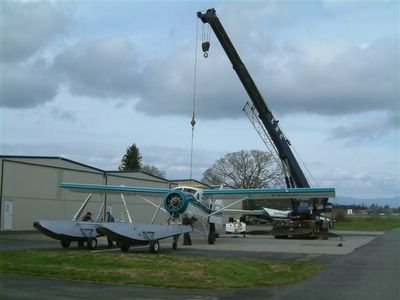 The "boys" discuss strategy.......

The signal is given to start to lift the Otter............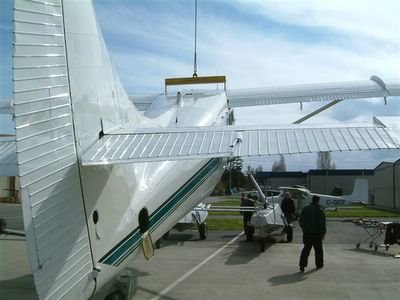 BEO is off the ground, and her main wheel-gear has been removed. The floats, with "beaching gear" attached, will be positioned under the Otter.

The Otter is steadied, and the tailwheel has been removed.........

The "scenery" in the Victoria area is stunning at this time of year. Check out the aircraft and the mountain in the background..........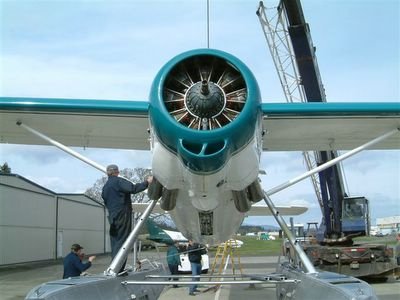 Great frontal shot of BEO being attached to the floats. Notice the "augmentor tubes" jutting from the bottom of the aircraft. The .667/1 reduction gearbox is also very noticeable in this photo, as the prop has not been installed yet...........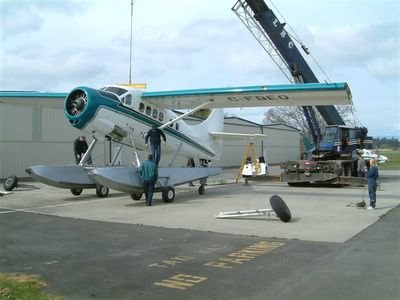 Attaching the float struts to the aircraft can be a matter of fractions of centimeters, so unwanted movement hinders progress. Therefore, someone steadies the tail and the wings of the aircraft.

The "boys" confer......

From afar, the Otter and the "gallows" are an imposing site.........

Floats attached, the boys take a "breather". After a few more necessary maintenance tasks such as "float boxing", "cable rigging", "wingtip and prop installations", and a few others, C-FBEO will once again experience the exhilaration of being operated from the water. Nice looking Otter, Clive, thanks for the pics!

Comments:
Good day.
This otter flys out of the bay at my place. Id have nices pics but cant send them on this site. Also wondering if this otter was owned at one time by White River Air. My father flew otters then, this could be his.
Thanks.
Bill Cole
Post a Comment
<< Home