Wednesday, March 30, 2005
Winter/Spring, late 1990's
Doug "McLeod" Burton and I (I'll tell you the 'McLeod' joke at the end) were sitting in the office at
Northway Aviation's Base
in
Pine Dock
when the
VHF radio
crackled and came to life: "Pine Dock, can you read me?" I grabbed the microphone and stated "Station calling Pine Dock, go ahead." "We're down on the ice!" was the reply. Ah, shit! I knew that the seriousness of the situation unfolding would depend on what type of aircraft they were in and how the landing gear was equipped. "Where exactly are you, and what happened?" I queried. "We are by Pine Dock somewhere, and we crashed into the ice!" came the voice back from the radio. "Which way from Pine Dock are you, north, east, or south?" I asked, trying to get the voice to be more specific. "My
GPS
still works, and it reads we are 30 miles north of
Riverton
!" said the voice. "OK", I said, "you are to the south of us. I will come and pinpoint you. How many are with you and are there any injuries?" "We are banged up, but I think everybody is OK. There are 4 of us," the voice said. I made one last transmission; "Who am I talking to, and whose aircraft is down?" I asked. I wanted to know whose aircraft it was so we could notify the owners immediately. The reply came back: "It's Jim, Steve, it's Jim." Crap! Now I recognized the voice. It was "Caribou" Jim! Doug and I bolted for the door!
"Caribou" Jim flew a
Cessna 210
for a local construction company. The 210 was for many years the fastest production single-engine piston aircraft made, being able to cruise around 200 mph depending on how equipped. Jim knew the area of central Manitoba quite well, as he had flown the region with other air carriers, and had been employed with the construction company for a number of years. The construction company did road and sewer and water construction at a number of
Reserves in Manitoba
. Jim flew the 210 to supply the construction crews with parts and materials, and he also did crew changes. On this flight in particular he was returning from the
Island Lake
area and was going to drop off an employee on the turf strip in Riverton, before continuing south to Winnipeg.
"
Unforgiving Lake Winnipeg
". Even when she is frozen, she can lure unsuspecting men to a date with injury or doom. The "
Big Lake
" is a marvelous sight to behold on a beautiful, sunny, winter day. On a low overcast day, like the day of the crash, the lake is very gloomy, and the surface height is hard to judge visually due to the low-light conditions. It all looks flat and white.
"McLeod" and I made it outside and ran for the company
Cessna 185, C-FZZP
. We would use ZZP as it had wheel-skis, in case we could land on the "Big Lake", though I seriously doubted it. We warmed up the
Continental IO-520
engine, and with me flying, took off from Pine Dock and headed south over Lake Winnipeg. We leveled off at about 1500 feet above ground level (agl) and began to survey the featureless expanse of white before us. We flew along, and after a short period of time we could see something dark in the distance. As we got closer we could see it was the downed airplane. It was out in the middle of the lake south of Calder's Dock. I circled overhead and Jim came on the radio and asked us to land and pick them up. I told him I would have to survey the area first. I flew around and my trained eyes could just make out the surface, and I could see what I knew were large, looming, hard drifts. There were also some cracks and pressure ridges in the crash area. All things considered, my "Spidey sense" instructed me not to land, as the low-light conditions would not enable me to pick out an obstruction-free landing zone. I would have to land blind onto whatever was on the surface, and with airplane pieces already strewn about the ice, I wasn't about to add to them. Jim called again and asked me to land, and I told him they would have to wait for ski-doos. I then called Base, and an employee and some local fishermen headed out onto the lake by ski-doo to rescue the passengers from the downed aircraft. I then circled the area until the ski-doos came so they would see where the crash-site was. Then "McLeod" and I headed back to Pine Dock, to commence the flying we had to do in the afternoon.
A couple of hours later, I was returning to Base after my last flight, and I was curious as to what had transpired during the rescue of the occupants of the downed aircraft. I landed, put my plane to sleep for the night, and headed for the lounge with "McLeod" to have a beer and to learn facts of the rescue. We walked through the door, and we were greeted by a smiling "Caribou Jim"!! (a half-cut "Caribou Jim", I might add!) I couldn't figure out why he was still here, and hadn't gone for a check-up at the hospital (70 miles away). I learned from one of the rescuers that the passengers and pilot had been transported back to Pine Dock, and 2 passengers jumped in a truck, that their company kept at the airport, and left, and the other passenger arranged his own ride home, and left Jim, the pilot, behind. Jim had bruising and swelling all about his face, and also had a sore neck. I decided to give him a ride south to Riverton where we could arrange for a ride for him home, or to the hospital.
We got to Riverton an hour later, and "Smilin" Caribou Jim wanted to stop and use the phone at the Sandy Bar Hotel, so we stopped. We waited for Jim, and then found out he was talking on the phone, but had also ordered a "round" for us. We had a couple, and kept asking Jim when his ride was coming. He danced around the question, and became more incoherent as the night progressed. Finally, I phoned his company and got ahold of an employee that basically couldn't have given a shit if Jim got a ride or not. I gave him the number at the hotel, and told him to call back when he had arranged a ride for Jim. He was a real arse. I couldn't believe the attitude of this company toward their pilot. Actually, in the years to come, this company offered me a job after they bought a twin-engined airplane. This incident with Jim was a major factor in my refusal of the job.
Half an hour later, the phone rang and it was for me. It was an employee from the construction company, and he said he would pick Jim up in one hour. Good. Jim was getting pretty tipsy.
The employee showed, picked up Jim, thanked us for looking after him, and left. I was relieved Jim would now be taken home and looked after. We had a few more and called it a night. It had been a long day.
We got some more facts about the accident in the next couple of days. The
Cessna 210
that Jim was flying is a retractable-gear airplane, but they had been experiencing some problems with the gear. When Jim left
Island Lake
, he left the gear "down", and was to have it looked at once he got south. This fact may have saved their lives, as with the gear down there is a restriction on airspeed, so they were flying slower than they normally would have been. It seems they descended straight into the lake surface at a reduced cruise power. The low-light conditions, a tired pilot, over a large lake with no visual vertical reference, I can see how it happened, and it did. This is not to say that it should have happened, as it shouldn't have. People are only human, and a mistake was made. It could have been a lot worse, but for some reason the aircraft stayed upright and straight as it came to a stop. It left a debris trail of wingtips, landing gear, and numerous other pieces.
The aircraft was salvaged from the "Big Lake", and was considered a write-off, though I am sure someone will have rebuilt it by now. "Caribou" Jim lost his job with the construction company, as they had no plane for him to fly. I saw him in the following months, and he had faint recollection of anything after he arrived at Pine Dock following his accident. He did tell me that he sure was sore the next day. I guess so!!! (with a wicked 'hangover' to boot!!!) He flew seasonally for a couple of other aircraft charter companies in the couple of years following his crash, but now drives truck, basically having given up on aviation.
Today when I fly past the area on Lake Winnipeg where Jim crashed, I am reminded of how calm, serene, docile, and placid the lake can be. Then, I snap to a higher state of attention and awareness, as I know how someone inattentive and unaware can be snared by the invisible tentacles reaching upward from the lake. If you don't believe this, just ask "Caribou" Jim!
(Oh yeah, the "McLeod" joke!
What is the difference between a Scotsman and 'The Rolling Stones'?
The 'Rolling Stones' have been known to yell "Hey, you, get off of my cloud!", whereas a Scotsman has been known to yell "Hey, McLeod, get off of my ewe!")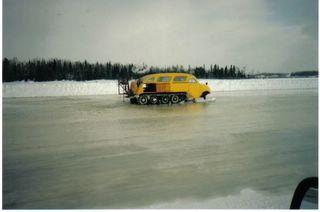 A Bombardier handles traversing the surface of Lake Winnipeg much better than a Cessna 210.......

After the crash, "Caribou" Jim morphs into his alter-ego and makes a hasty get-away.......

Great aircraft C-FZZP outfitted for winter on the ice at Charron Lake, MB. She also took "McLeod" and me to the scene of a crash on Lake Winnipeg.......

ZZP and my friends "McLeod" (left) and Randy. A beautiful winter day spent in the bush with friends always makes the beer taste better at the end of the day.....

Thursday, March 24, 2005
I know that with the strife and uncertainty in the
Middle East
, there has been talk in the good old
U.S. of A.
about reinstating the draft. There has been a lot of public outcry over this, and
President Bush
has stated publicly that there will be not be a draft in the U.S.. In
Canada
, a little known fact is that we have had a draft every year in June for over 40 years, and now it is to be cancelled. I sympathize with the
American public
, but in
Canada
, we need
"The Draft"
. I wish both sides concerned would get off of their "ego-constructed pinnacles", show some humility, and reach an agreement. The future of some fine, talented young men, depends on them. Therefore, for
Canada
, I say,
"Reinstate the Draft"!!!
Quote of the Decade
"Going to war without France is like going deer hunting without your accordion"
- General "Stormin'" Norman Schwarzkopf

Folks, I don't usually make a plea for assistance, but in this case I thought I should. I have a pilot friend who has had many ups and downs, and has weathered whatever life has seen fit to throw his way. He has seen financial ruin, catastrophic relationship disintegration, and is trying to recover from substance abuse. I therefore told him I would make his plight known, and would ask for any assistance available. He said he just wants to come home. If you can help a wayward pilot, please click on the link below. Thank you.
Help a Wayward Pilot Get Home
(speakers on for audio, use your mouse)
Wednesday, March 23, 2005
The story of the Grass family will become a movie, I guarantee it. They have finally reached "freedom", after leaving
Cuba
. The picture below is of a 1951 Chevy pickup, and on this attempt they made it to within 40 miles of the U.S. before the
U.S. Coast Guard
intercepted them and returned them to Cuba. A second attempt was made in a Buick sedan (I'm serious, a Buick sedan) converted into a boat. Again, they were intercepted. They have now reached the U.S. overland and will be allowed to stay. Refugees with that determination should be allowed to stay, as I'm sure they were persecuted, and will be productive. I'm sure that anyone with enough talent to get to the U.S. from Cuba by "truck", will have no trouble finding a job in welding or manufacturing, maybe even in the "research and development" division of some company. I think this fellow and his family clearly reflect one of the national mottos of the U.S.,
E Pluribus Unum
!! It is too bad the
Coast Guard
sank the 2 improvised boats, as I'm sure they would have been right at home in the
"Smithsonian"
, as a presentation entitled "Human Ingenuity and Spirit in the Quest for Freedom". (Click on the title and read the whole amazing story)

Gregory Wald / U.S. Coast Guard via AP file
Tuesday, March 22, 2005
One of the best
Beavers
I have ever flown in my career has to be "stalwart and steady" C-FQQG. She is a
1967 DHC-2
, S/N 1675, originally delivered to the
Peruvian Air Force
, and registered as FAP-383. Like all good
Beavers
, she returned to
Canada
to ply her trade. She has now soldiered on at
Northway Aviation
for 30 years, and has had many a hand on her "yoke", and survived many a rookie's "youthful exuberances" (sometimes barely). I knew her intimately from 1990 to 1999, and she never let me down once. I flew her on wheels, skis, and floats, and watched her evolution as she was overhauled and modified. To this day she plays an integral part in the day to day workings at
Northway Aviation
.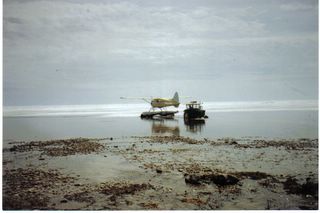 The John Deere 4020 tractor delivers C-FQQG to the ice sheet just off Drunken Point, Lake Winnipeg. Jim Johnson, Northway Aviation owner, would pilot QQG and make a take-off off of the ice!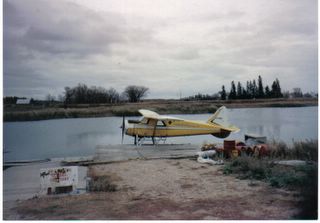 C-FQQG safely makes it to the Icelandic River in Riverton, Manitoba.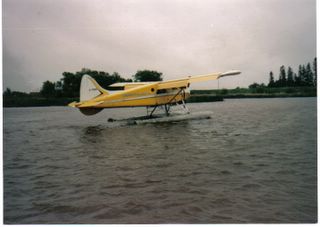 Loaded and warmed up, C-FQQG "sails" in the wind as she prepares to take to the skies and head north.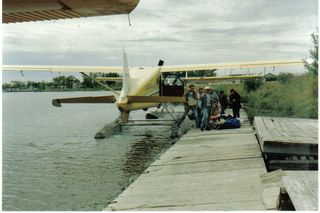 C-FQQG returns to Base safely with a load of quite content passengers. Craig "Bucketboy" Brown piloting.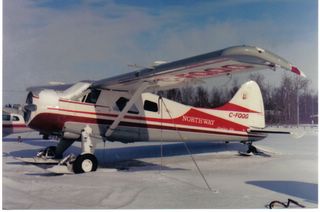 The boys in the hangar did a fine job over-hauling C-FQQG. She has new paint, a Baron STOL kit, a new interior, and an extended-baggage compartment mod. The battery has also been moved to the firewall.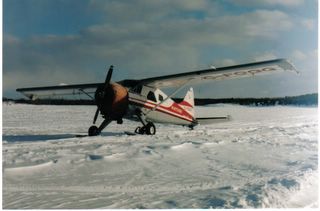 QQG patiently waiting for me on Lake Winnipeg, I believe at George's Island.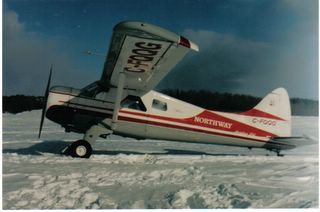 A beautiful profile of a "beautiful girl".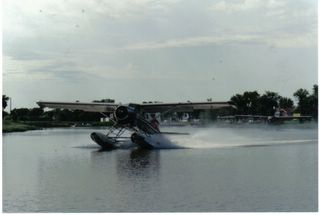 Powering up, the sound of 450 horses cracks the air, as the Edo 4930 floats "claw" onto the step! Good ship CF-UKN, the company Otter, prepares to depart also, seen in the background.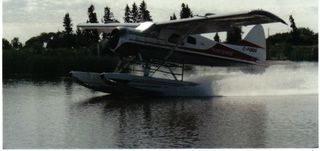 QQG on the step departing the Icelandic River in Riverton. A beautiful shot of the Beaver's classic lines displacing a "nice wake".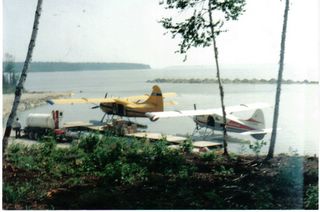 CF-UKN and C-FQQG pose on the dock at Biscuit Harbour. Before there was even a building on site, QQG earned her keep.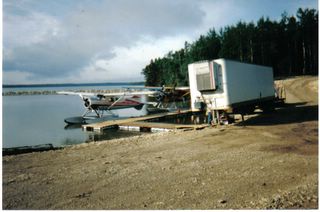 QQG prepares to receive a load of freight at Biscuit Harbour during the early days.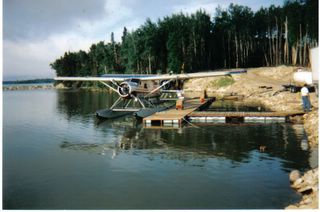 Good ship QQG.

Where is "Waldo"? Dave "Waldo" Dyck ties a boat onto QQG at Sasaginnigak Lake, Manitoba. External loads were routine for QQG.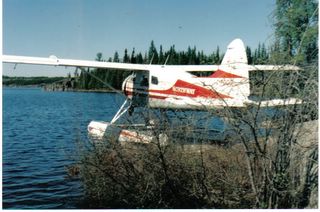 QQG at Allan Johnston Lake, Manitoba. Jad "Girlie-man" Dick had a mag failure, and left the airplane overnight in the bush. I flew good old QQG back to Base the next day on one mag........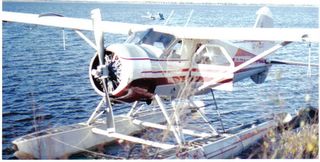 QQG parked at Goose Lake, northwest of Dauphin River, Oct. 8, 1998. I took a salvage crew from Skyline Maintenance and Avionics into the lake to salvage the poor disoriented aircraft seen in the background. She had flipped during a precautionary landing a few days earlier, and the pilot had made it to shore and survived. The boys at Skyline righted her, and eventually, flew her out!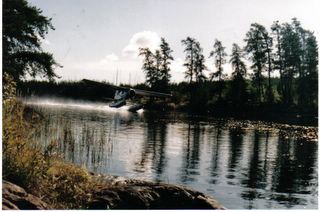 QQG coming through "the gap" at "The Knot", on the Bloodvein River. Chris Bridge piloting.

Once airborne, a fly-by is warranted.....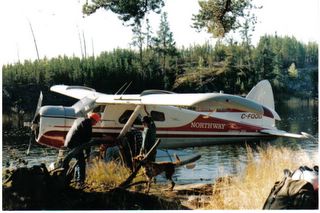 A beautiful shot of QQG at "The Knot" on the Bloodvein River, a week later, after arriving to pick-up the successful moose hunters.....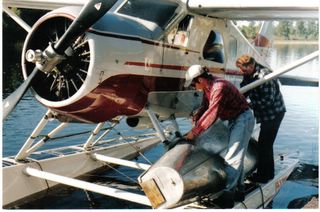 Pilot Chris "Bogan" Bridge, and Vince Crichton, Manitoba's top moose biologist, tie on a canoe to be transported back to Riverton from "The Knot", Bloodvein River...........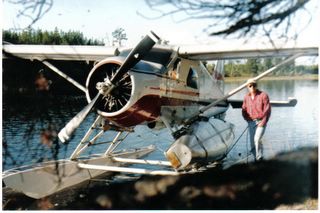 "Bogan" strikes a fine pose. This "city boy", I do believe, learned a lot from the bush, and good ship QQG. He matured into one of the "best" pilots I have helped train and flown with......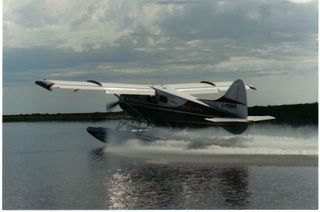 QQG motoring across the water on the Icelandic River. Proud and strong, she easily has another 40 years left in her..........."Soldier on", good ship C-FQQG!!!!!