Thursday, March 10, 2005
Blast From the Past: Beaver C-GJJG's Transformation from Skis to Floats, Winter/Spring 1987-1988
Standing in front of the Beaver, "dressed-for-the-elements" Kelly strikes a fine Canadian pose!

A view from the front of my house on a beautiful winter day. Not far to go to work!!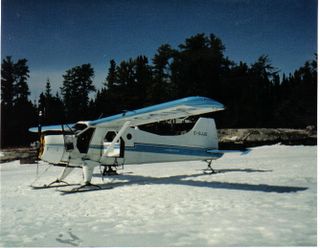 Good old Beaver C-GJJG at Red Willow Lake, Manitoba. Springtime, 1988.

Pauingassi, spring, 1988. Landing straight skis on wet ice was always a challenge, especially with a crosswind. Kind of like trying to stand on a basketball, drunk!!

The ice starting to dry and "candle" from the top. Notice I am parked on a high spot. Myself and old C-GJJG would soon be going south for floats.....

Hanging on right until the last minute, as usual. The ice is already starting to pull away from the shoreline. Where we are parked is frozen right to the bottom, and you can see the ice "blackening" in front of the airplanes. Time to head south, get an inspection done, and switch to floats.

Myself and good old Michael "Crowbait" Eastman, changing C-GJJG from "straight skis" to wheels at Sandy Bar, on Lake Winnipeg. The Icelandic River in Riverton was completely open water, so we had to change-over on the "Big Lake". I then landed in a farmer's field beside his turkey barn, and taxied down the road to the hoist by the river to install the floats. Spring, 1988.

Having successfully landed in Sigmar Johnson's field by his turkey barn without killing any turkeys, "Crowbait" and I strike a nonchalant pose. Feathers everywhere!!!

Change-over complete, "Crowbait" and I line up the Beaver, good ship C-GJJG, for launching, without spilling our beers!

Into the Icelandic River went the good ship C-GJJG. She would soon head back north, and continue to "flog" the skies and bush and earn her keep.