Wednesday, April 04, 2007
"Exhilarating activities" can make life quite enjoyable. Everyone likes to experience an "adrenaline rush". The better "risk is managed", and "safety observed", the more satisfying these activities usually are. I leave you to make your own "analysis" regarding this next "fellow"!
VIDEO -
"Questionable Procedures"!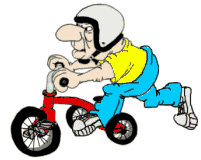 After scaring himself "sh******", our "intrepid free-faller" decided on a new type of recreation closer to "terra-firma"!