Thursday, January 26, 2006
"Rotting Ice, Ski-Planes, and Apprehension".........
"BBbbbrrr--i-i-i-ii-nnn-gg-GGGGG!" The phone obliterated the silence at the Flight Shack, as Edward and I were both engrossed in our paperwork. It was the end of ski season, as the ice was rotting, and we had decided to change venerable de Havilland Beaver C-GJJG, and tin-can Cessna CF-LDW to straight wheels. JJG was wearing straight de Havilland metal skis, and LDW was wearing hydraulic wheel-skis. We were operating from a Base at Little Grand Rapids, Manitoba.
It was the end of April, and ski season was over, so to speak. We had hung around longer than usual, as the local trappers always wait until the absolute last minute to organize and set a date to fly out, so as to be on the trap-line for open water. Every day that goes by, the ice rots and gets weaker. Well, we thought we were done flying, and we were going to work on the aircraft, and then move them off of the ice up to the runway. Then the phone rang...........
"Hello Steve, we need to go to Shallow Lake, 'Right Now'!" It was one of the Owen family members from Pauingassi. As my blood pressure increased, I got annoyed and asked him all the old questions; "Don't you know the ice is rotting? Why have you waited so long to fly out? Do you realize there is current traveling Shallow Lake? Yadda, Yadda, Yadda........" I got all the same old answers; "I was busy. I couldn't find a partner. I was waiting for my cheque. My wife was sick. I didn't realize how late it was." Then I started to laugh my ass off, as I realized there was no point in even asking the questions, because I already knew the answers. It had been cold the night before, and I agreed to do the one last trip, as the families relied on the income from trapping, I was heading north, and there was a large area at Shallow Lake that should be current-free, and hold the Beaver, but the boys would have to walk a mile pulling toboggans piled high with their gear. One thing about the local aboriginals, they know how to read current in a lake or river, and know where to walk to avoid falling through the ice.
I warmed up the Beaver, and vowed this would "absolutely be my last trip"! Engine warm, I got out and was met by Edward, who told me that while I was warming up, another trip arose. A couple of locals wanted to go to Bissett, 72 miles south, to pick up some "groceries". They wanted to use LDW. I was concerned about the ice at Bissett, as it had already pulled away from shore. Edward said this would be his "absolutely" last trip also, and would return to Base without landing if he deemed the ice unsafe during a visual aerial inspection once he arrived over Bissett.
We both took off for our respective destinations, mine being Pauingassi first, to pick up the trappers, before I went to Shallow Lake. Arriving at Shallow Lake, I could see where the river current entered the lake, and was eating away the ice. I picked one spot to land, and I figured it would be OK, although it was a long way from shore, and away from any current. I touched down, and slowly came to a stop, and this always causes a little apprehension, especially at the end of ski season. We stopped completely, and didn't sink! We exited, and I checked the ice. It had "candled" on top, and was dry, but held the Beaver well. We started unloading, until I heard one of the Owens saying "Pilot, Look"! I looked out the door, and there was a stream of water about 8-10" high shooting up through a crack in the ice beside the front left ski. I tell you, if there was a "Beaver Unloading National Championship", the Owens and I would have won the "Gold" that day. The boys headed across the lake pulling toboggans, and I took-off, uneventfully, but vowed to not do another trip on skis.
As I returned, I radioed Edward, who was returning and had had his own "fun". He had made Bissett, landed in the middle of the lake, walked with his passengers to shore, and had to "jump" the 4' of open water where the ice had pulled away. Once his passengers "shopped", they had to jump back to the ice, throwing the "groceries" across. Walking back to the plane, they were unnerved to see that the ice had sunk slightly, and the skis were in water. Edward quickly jumped in, fired up, moved to a high spot on the ice, "loaded" as fast as my passengers and I "unloaded", and took off. He also vowed to not do another ski trip. We both arrived back at Base safe and sound. We then changed JJG over to wheels, and moved it up to the airport. Now there was no way we could do another trip to the bush. LDW was moved to the airport also, and the next morning we would take the skis off.
That night we sat and chatted and laughed while consuming some "wobbly-pops", and reflected on the day's events. It is a fact of life in Northern Manitoba that the locals always wait until the last minute to do most tasks, and flying out to the trap-line at "last ice" was no different. One just has to be wary about landing surface conditions. During this time in my career, I learned a wealth of information about the bush. It was one of many experiences from my past, and a "life memory". I tell you, I can see the look on the face of the trapper "as clear as the day it happened" when he said.... "Pilot, Look"!.... and water was shooting up through the crack in the ice..............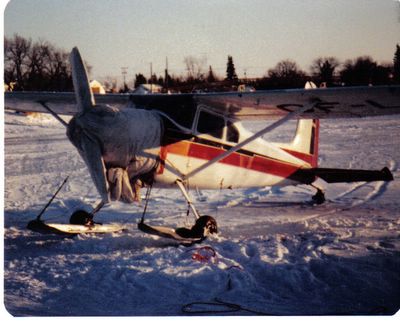 LDW, bush-flying veteran......

JJG, great "Bush Taxi".........