Friday, November 18, 2005
Steve's Video Of The Day: Consolidated PBY "Catalina" Pearl Harbor Departure!
The Consolidated PBY "Catalina" was the most famous "flying boat" of WWII. I can just imagine the joy and adrenaline-rush downed pilots would have after viewing a Catalina coming to rescue them.
Aside from being a rescue aircraft, it also did anti-submarine patrols, was used as a freighter, and transport aircraft, and was outstanding as a Maritime/Coastal patrol reconnaissance aircraft . Basically, it had many roles, and fulfilled them well.
Canada was involved with Catalina production, as Boeing Aircraft of Canada built the PB2B-1 and PB2B-2, nicknamed "Canso", and a derivative of the PBY-5A was built by Canadian Vickers.
Over 4000 Catalinas were built between 1936 and 1945, and 30 are still airworthy today.
SPECIFICATIONS
Consolidated PBY-5A Catalina
Engines: Two 1,200-hp Pratt & Whitney R-1830-92 Twin Wasp radial piston engines
Weight: Empty 20,910 lbs., Max Takeoff 35,420 lbs.
Wing Span: 104ft. 0in.
Length: 63ft. 10.5in.
Height: 20ft. 2in.
PERFORMANCE
Maximum Speed: 179 mph
Long-Range Cruising Speed: 117 mph
Ceiling: 14,700 ft.
Range: 2,545 miles
Armament: Five 7.62-mm (0.3-inch) machine guns
Up to 4,000 pounds of bombs or depth charges
Number Built: ~4,000
Number Still Airworthy: ~30
VIDEO -
Consolidated PBY "Catalina" Pearl Harbor Departure!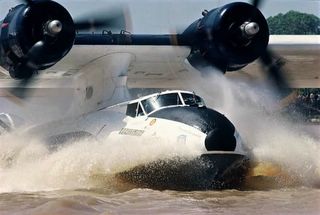 Check out a great story about a boy and his father and a Canso in the Canadian Arctic. The story was written by John Goulet, and I actually worked with his father Lorne, the Canso Captain in the story, during the 1990's.
STORY -
The Eleventh Hour: Adventures Around The Arctic Circle
Comments:
Kia Ora (Hello) from a krazy blogger down under in New Zealand. Such a great blog - can I mention it on one of my blogs "21 21 21 Blogs". I'll be back to read some more. Thank you for your "little windows" to your world.
Kelvin, thanks for the comment, and glad you like my Blog. A mention of my Blog on your Blog would be most appreciated. Thanks again.
Post a Comment
<< Home