Monday, October 24, 2005
"Surgery" Is Necessary........
One unplanned positive thing about having a "blog" is receiving e-mails from fellow aviation, de Havilland, and float and ski flying "bush" enthusiasts. A lot of them have their own great stories and pics, and are a wealth of information. A few days back I received an e-mail from Clive Pearce, a New Jersey resident, who has a love of Cessnas, Beavers, and Otters. He spends time in Northern Ontario also, and has an attachment to the region. Well, he sent me some pics of a grand old lady that had some trouble during the "touchdown" of a "forced landing". The aircraft overturned due to the shallowness of the water (as you will see), but was salvaged, and apparently will be flying again soon. The incident took place somewhere in British Columbia. The S/N is #397, and my research leads me to believe that this is DHC-3 Otter C-FQEI. The accident took place in the past year, and the aircraft had been operated by
Air Nootka
.
C-FQEI in an extremely "unfortunate" attitude. Notice the depth of the water, although if this is a tidal bay, the level would fluctuate.
Back on shore, with a few "wrinkles" in her. "Ladies" hate wrinkles!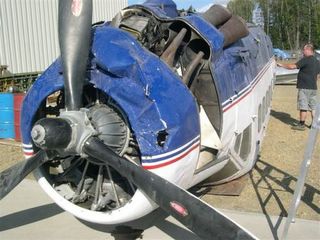 Seriously injured, surgery is necessary for C-FQEI. Soon, though, she will return to the skies with a clean "bill of health".

Hate to see an Otter laid up, but I am sure it won't be long before she is up and "corkscrewing" through the skies again. One thing about Otters, they can sure "take a flogging, and keep on logging"! Thanks for the pics and info Clive, till next time, "Adios"!