Saturday, October 22, 2005
Steve's Video Of The Day: de Havilland Canada DHC-5 "Buffalo"!
de Havilland Canada made some outstanding products, and the DHC-5 was named the "Buffalo". It looked similar to the "Caribou", but with new innovations and turbine engines. It's payload was greatly increased. 126 were built.
SPECIFICATIONS
Country of Origin: Canada (DHC-5, CC-115)
Similar Aircraft: C-7A Caribou
Role: STOL transport, cargo (41 troops, 1/4-ton vehicles, and freight)
Armament: Usually none
Length: 79 ft (24.08 m)
Span 96: ft (29.26 m)
Wing area: 945 sq. ft.
Height: 28 ft. 7 in.
Weights: Empty, 22,400 lbs. Gross, 38,000 lbs.
Power Plant: Two General Electric T64-10 turbine engines @ 2,850-ESHP (Equivalent Shaft Horsepower) at take-off.
Crew: Three
Accommodation: 41 fully equipped troops or 35 paratroopers
USER COUNTRIES: Abu Dhabi, Brazil, Cameroon, Canada, Ecuador, Egypt, Ethiopia, Honduras, Kenya, Mauritania, Mexico, Oman, Peru, Sudan, Tanzania, Togo, United Arab Emirates, USA, Zaire, Zambia.
Watch a Buffalo from the Egyptian Air Force landing in Prague, Czechoslovakia, right at home in a meteorological condition she is familiar with, "SNOW"!
VIDEO -
de Havilland Canada DHC-5 "Buffalo"!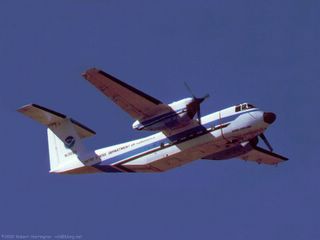 Fine piece of work by de Havilland Canada.