Thursday, October 20, 2005
Chronological "Snapshots" From My Past, Frozen In Time!
Ain't it funny how time slips away!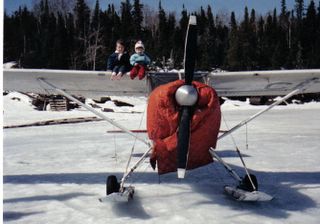 In the late 80s, the upper wing surface of 1959 Cessna 180 CF-LDW seemed like a good "perch" for these 2 birds, oldest kids Kelly and Kody, both presently University of Manitoba students.

When flying low over the ice on a sunny day, sometimes the timing is right, and your shadow appears. QUESTION: What type of airplane is this?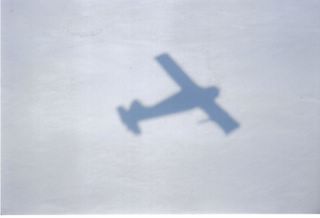 Whoever answered a "1959 de Havilland DHC-2 Beaver on de Havilland "straight" skis, go to the head of the line for a free beer. Old C-GJJG performed unbelievably on those straight skis.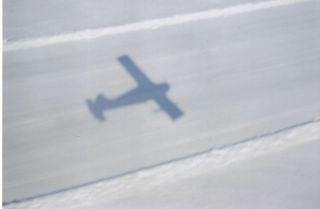 The "Shadow of JJG" held the "Winter Road Raceway Championship" on the 9 mile stretch between Little Grand Rapids and Pauingassi for 4 straight winters, 1986-1989. She retired undefeated.

How the old girl really looked.

"Thunderchicken" CF-GUE ( 1943 Noorduyn Norseman) cranks down the Icelandic River "on step".

Doing a Big Game Survey for moose and elk (and whatever else we saw) in the Interlake with Cessna 185 CF-ZZP. Notice the "hoar frost" on the bush in the background.

Lunchtime! Time to eat our frozen sandwiches! Also, notice the belly-pod on ZZP. What an invaluable addition, especially in winter.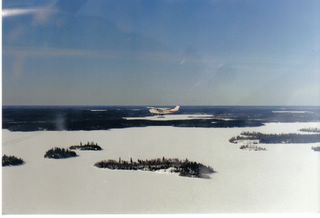 The "Bowling Alley", Cessna 207 C-FBHP, framed by a Manitoba winter in the background!

Fueling Cessna Caravan C-GJJM during a "blistering sunny" winter day at Pine Dock, Manitoba.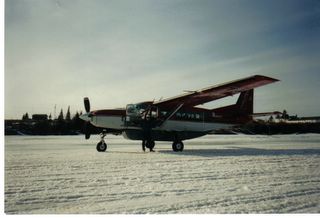 Passengers and freight "disgorged", C-GJJM rests on the "ice" on Fishing Lake, Manitoba.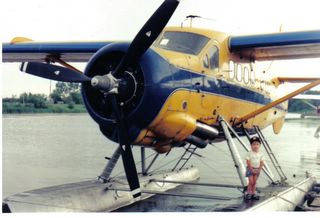 Son Shane poses with a hurtful look on his face, and holds his "berries". 1966 Otter CF-UKN looms over Shane. After the pic was snapped, Shane went to "wet the bushes". Shane is now in Grade 8.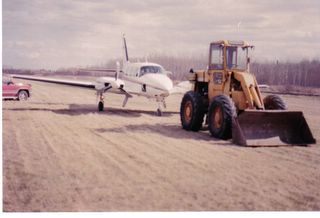 How do you clear the runway when an aircraft lands without nose-gear down due to a seized "roll-off bearing"? Why, of course you lift the nose, lock the gear down, and get the loader/tug!

Yes, "time marches on", and "time waits for no man", as it seems like yesterday when these photos were taken.