Friday, September 23, 2005
2 "Tough Ladies"...........!!
The Fairchild Republic A-10 "Thunderbolt II", nicknamed "Warthog", is the first USAF aircraft designed specifically for close air support of ground forces. It is named for the famous P-47 Thunderbolt, a fighter often used in a close air support role during the latter part of WW II. The A-10 is designed for maneuverability at low speeds and low altitudes for accurate weapons delivery, and carries systems and armour to permit it to survive in this environment. The engines are high and to the rear of the aircraft, and the exhaust is expelled above the tailplanes to minimize the infra-red signature to ground-based missiles. It is intended for use against all ground targets, but specifically tanks and other armoured vehicles. The Thunderbolt II's great endurance gives it a large combat radius and/or long loiter time in a battle area. Its short takeoff and landing capability permits operation from airstrips close to the front lines. Service at forward area bases with limited facilities is possible because of the A-10's simplicity of design. The first prototype Thunderbolt II made its initial flight on May 10, 1972.
SPECIFICATIONS
Span: 57 ft. 6 in.
Length: 53 ft. 4 in.
Height: 14 ft. 8 in.
Weight: 47,000 lbs.
Armament: One GAU-8/A 30mm Gatling Gun and 16,000 lbs. of mixed ordnance
Engines: Two General Electric TF34-GE-100 turbofans of 9,000 lbs. thrust each
Crew: One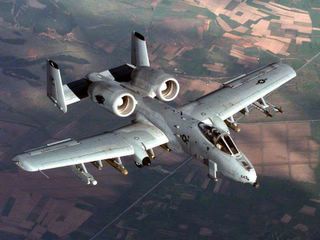 What a "HOG"!

The "Warthog" is a fine, tough, "lady", and proved herself in "Operation Desert Storm", and continues to prove herself battling "insurgents" in Iraq today. Following is a Power Point Presentation of an A-10 "Warthog" and some battle damage. --------------- Oh yes, the title of my post was "2" Tough Ladies...........!!' That's right! Well, aircraft aren't the only "tough ladies" produced in the U.S.A. today, check out the "tough lady" in the last frame of the "Presentation"!!
POWER POINT PRESENTATION -
2 "Tough Ladies"...........!!
Comments:
People always reflexively say that the A-10 is an ugly airplane. But I think it looks cool. It is the smartest airplane the air force has ever produced.
It certainly accomplishes what is asked of it, and you are right. It is a "damn beautiful" airplane!
Post a Comment
<< Home