Monday, February 07, 2005
I received a call on Friday evening to inform me that my good friend Wes Klassen had passed away Tuesday. The call was from Wes' wife, Peggy. I didn't know what to say, at first, as I haven't experienced much loss and grief in my life.
I first met Wes in the spring of 1984 when I worked at Sasaginnigak Lake Lodge with Wes and Jake Thorsteinsson. We became friends and remained so until his passing. We were employed together until the late 90's.
Wes could do ANYTHING! And I mean it. He could weld, wire, plumb, construct, you name it, he could do it. And do it well. He actually was a self-employed carpenter in recent years, specializing in decks and gazebos. He built
new cabins
at Sasaginnigak lake, and they were beautiful. Wes was a perfectionist and a brilliant "finishing carpenter".
Wes had oversized hands, but the drawings that came through them were amazing. He built bird-houses, and made miniature place-settings out of wood that he turned on the lathe. He could make chess sets, and baby furniture for his grandchildren.
I don't think I ever heard Wes raise his voice in anger, or ever even exhibit anger. What a great quality to have. Wes was easy-going and took life as it came, never letting the everyday small hurdles people face get to him. It reminds me of the saying "don't sweat the small stuff", and I don't think Wes ever did.
Wes could always be counted on to help anybody out. Whether it be lending tools, or explaining how to do something, or physically helping, Wes would do it. He helped me shingle my roof in spring 2003, and did a great job.
Wes has left us far too soon, and people of Wes' caliber should live forever. I am feeling guilt over not seeing Wes as much as I should have these past few years, as our jobs kept us apart geographically. The old song goes "you don't know what you've got till it's gone", and a friend is gone, and good friends are hard to find. Rest In Peace, Wes, good buddy. Until we meet again.
Steve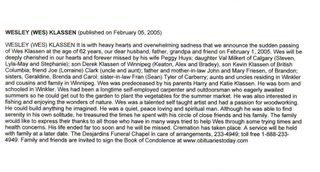 I wish you light winds and clear sailing on the next leg of your journey, Wes.

Comments:
That is sad news. He could also make outboards run when they shouldn't be running anymore. It is hard to believe that he was only 42 when I met him. Myself being an irresponsible 19 year old at the time, he seemed much older.
Yes, he helped me shingle my roof in spring of '03, and you never would guess he would soon be ill. He crawled around on the roof like a kid. I considered him a young 60 years old. It is too bad, but hey, that is life. It is never fair. (Wes could also de-bone Northern Pike like no-one you will ever see again, and I have seen many aboriginals and Lake Winnipeg fishermen do it.)
Post a Comment
<< Home