Friday, February 25, 2005
I just got off the phone with my good friend from Little Grand Rapids, Fred Moar. I have known Fred for 20 years, having flown him to and from his trapline numerous times on floats and skis. I gave him a call, as I received information that another one of my friends from Little Grand Rapids, Lloyd Leveque, had passed on. I also knew Lloyd for 20 years, having flown him to and from his trapline numerous times, along with making the occasional run years ago to pick up some "party juice". Lloyd had a tremendous temperament, and was very intelligent. He grew up in the bush, and could survive quite easily anywhere under the harshest of conditions. I also knew his father very well, John Joseph (J.J.) Leveque, who passed away a number of years ago due to diabetes.
I know time marches on, and the only guarantee in life is "death" (and taxes), but it saddens me to see friends passing on at far too young an age. Lloyd was only 53 years young. Along with losing a friend, the aboriginal community has lost another person who was a " treasure trove of knowledge" in the ways of wilderness survival that had been passed down father-to-son for thousands of years.
I don't like to put links into a memoriam, but read a
story about Lloyd
that I had posted a couple of months ago (and had actually written for a newsletter years ago), on Dec. 6, 2004, 11 days before Lloyd died. I hadn't been aware that he was that sick. It still brings a vivid picture to my mind and a smile to my face each time I re-read it, as I re-live the day, and I can actually feel the wind, the rain, and I can even smell the "Lake".
Your trials on this earth are over now, Lloyd, sail on towards that great "Shining Falls"!!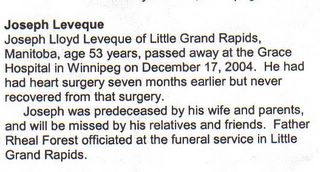 Enjoy the rest of your journey, Lloyd, as I know Rhoda is once again at your side....