Thursday, January 27, 2005
Hello, good to be back. I have been in
Dauphin
,
Manitoba
. I am doing a Game Survey for
moose
and
elk
with
Manitoba Natural Resources
, and will be posting some info on the survey in the near future. I didn't have access to a computer while I was gone, and when I returned I received some nice pictures by e-mail, and they form the basis of my story for today.
The
Otter
I fly today is registered C-GBTU. It is a very solid machine and a workhorse. It is Serial # 209, and was delivered to the
Indian Air Force
on Nov. 27, 1957. The original registration was IM-1711. It gained a few thousand hours over many years, and then "languished in anguish" for another number of years. With a tremendous increase in worth over the past 25 years,
Otters
were sought out in countries they were originally delivered to for purchase and refurbishment. This is how I came to know the good ship C-GBTU.
C-GBTU
was purchased from the
Indian Air Force
in the mid-90's and overhauled in
Pine Falls
, (actually up-river in Silver Falls)
Manitoba
. The work was accomplished by Winnipeg River Aircraft and Art and Don Gaffray. The old 600 HP
Pratt and Whitney
1340 CI engine was removed and a 1000HP
Pezetel
1820 CI engine was installed. The
Pezetel
engine gave yeoman service, but time and technology march on and the decision was made to convert
C-GBTU
to a turbine
Otter
, with the engine of choice being a
Walter
turbine.
During the last 3 months, old
C-GBTU
has had her paint and her modesty stripped away but in the end it will be well worth the humility she will have suffered. She has received new paint which looks marvelous, and the 1000 HP radial has been removed, and the new turbine is being installed. She is also getting a complete new instrument panel, and has also had a
Baron STOL Kit
installed.
In closing, some old-timers and aviation purists will say that airplanes such as
Otters
and
Beavers
should be left as is, but conversions and upgrades such as these will keep these fine
DeHavillands
operating for another 50 years.
For more pictures and the full story on good old C-GBTU and her conversion, click
HERE!!!
C-GBTU tethered to the dock in Thompson, Manitoba, sporting her 11' (132") 4-bladed prop and Pezetel engine. She was soon to get a nose job...

C-GBTU scoffs at the surf at Munroe Lake Lodge, Manitoba, Sept. 2003...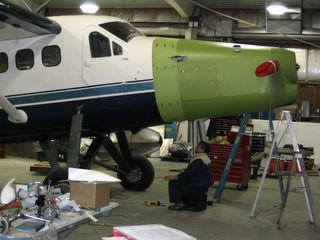 With tools, finesse, and Kenny's unerring eye, C-GBTU's proboscis was sculpted from a pug-like appearance to a narrow thing of beauty....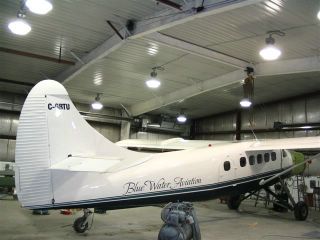 New paint makes C-GBTU a proud ship...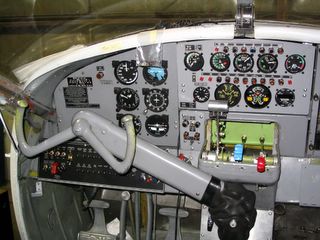 The "new" look of the instrument panel....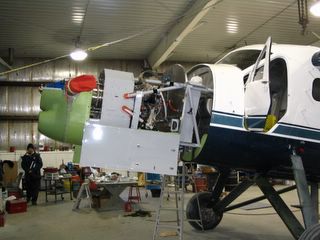 A turbine engine is just a "stove pipe and a fan"......

Once the prop is installed, and a few more items completed, C-GBTU will soldier on in the Canadian skies for many more years to come.....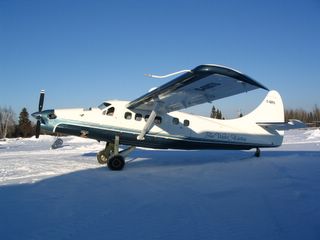 C-GBTU outside and ready to face the world, the elements, and any load or trip thrown her way. The humility of the surgery is gone, and she is going back to work with an attitude, albeit a good attitude.....