Monday, October 31, 2005
Steve's Choice For Governor General Of Canada: H. Clifford Chadderton; CC, O. Ont., OStJ, CLJ, CAE, DCL, LLD
Michaelle Jean is now officially the Governor General of Canada, and if you weren't aware, is also now the Commander-in-Chief. Talk about a patronage appointment. Anyways, I won't be too long-winded, as I just become more annoyed. Michaelle Jean has a fine resume, and should be commended for her outstanding work with abused women, and helping to provide emergency shelters for said women. This, though, is not the experience necessary to be "GG". Also, her past "patriotism" and "allegiances" are "sketchy". So, was Cliff Chadderton ever considered for GG? He should have been a "no-brainer" for the position. Here are the 2 resumes, you tell me who has the experience to be Commander-in-Chief.
----------------------------- --------------- ---------------------
Governor General
Her Excellency the Right Honourable Michaëlle Jean, C.C., C.M.M., C.O.M., C.D., Governor General and Commander-in-Chief of Canada
Biography
Michaëlle Jean was born in Port au Prince, Haiti. As a young child in 1968, she and her family left her country and sought refuge in Canada.
She received a Bachelor of Arts in Italian and Hispanic languages and literature, and continued her studies towards a Master of Arts in comparative literature at the University of Montreal. From 1984 to 1986, she taught at the Faculty of Italian Studies at the same university. During the 1980's, she pursued linguistic and literary studies at the University of Perouse, the University of Florence and the Catholic University of Milan, all of which cited her for excellence. She is fluent in five languages: French, English, Italian, Spanish and Creole.
As she pursued her studies, Michaëlle Jean worked for eight years, from 1979 to 1987, with Québec shelters for battered women. She has taken in, supported and accompanied hundreds of women and children in crisis, while actively contributing to the establishment of a network of emergency shelters throughout Québec and elsewhere in Canada. She was also involved in aid organizations for immigrant women and families, and later worked at Employment and Immigration Canada and at the Conseil des Communautés culturelles du Québec.
Madame Jean's sense of social commitment and her appreciation of national and international realities led her to journalism. For 18 years, she has been a highly regarded journalist and anchor of information programs. She joined Radio-Canada in 1988, working successively as a reporter and host on such news and public affairs programs as Actuel , Montréal ce soir, Virages and Le Point . In 1995, she anchored a number of Réseau de l'Information à Radio-Canada (RDI) programs such as Le Monde ce soir, l'Édition québécoise, Horizons francophones, Les Grands reportages, Le Journal RDI, and RDI à l'écoute. In 1999, she was also asked by the English network, CBC Newsworld, to host The Passionate Eye and Rough Cuts which broadcast the best in Canadian and foreign documentary films.
In 2001, Michaëlle Jean began anchoring the weekend editions of Radio-Canada's major news broadcast Le Téléjournal. In 2003, she became the anchor of Le Téléjournal's daily edition Le Midi.
In 2004, she started her own show, Michaëlle, which is broadcast on both French-language public television networks. This program features a series of in-depth interviews with experts, enthusiasts and visionaries.
In the mid-1990s, Michaëlle Jean also participated in a number of documentary films produced by her husband, filmmaker Jean-Daniel Lafond: La manière nègre ou Aimé Césaire chemin faisant, Tropique Nord, Haïti dans tous nos rêves, and L'heure de Cuba. These thought-provoking documentaries were critically acclaimed and earned awards both in Canada and internationally.
Michaëlle Jean has won numerous honours for her professional achievements, including: the Human Rights League of Canada's 1989 Media Award for her report titled La pasionaria, on the struggle of an immigrant woman in Québec; the Prix Mireille-Lanctôt for her report titled Partir à zér, dealing with spousal violence; the Prix Anik for best information reporting in Canada for her investigation of the power of money in Haitian society; the inaugural Amnesty International Canada Journalism Award; the Galaxi Award for best information host; the 2001 Gemini Award for best interview in any category; and the Conseil de la Langue Française du Québec's Prix Raymond-Charette. Michaëlle Jean has also been named to the Ordre des Chevaliers de La Pléiade by the Assemblée internationale des parlementaires de langue française, and has been made a citizen of honour by the City of Montreal and the Ministère de l'Immigration et des relations avec les citoyens of Quebec in recognition of her accomplishments in communications.
Michaëlle Jean is married to Jean-Daniel Lafond. Their daughter, Marie-Eden, is six years old. Michaëlle Jean's family also includes Mr. Lafond's two daughters from a previous marriage and his two grandchildren.
(from the
Governor General Of Canada Web-Site
)
-------------- ------------- --------------------------------
Biography
H. Clifford Chadderton
CC, O. Ont., OStJ, CLJ, CAE, DCL, LLD
H. Clifford Chadderton is a devoted man. For more than 35 years, he has tirelessly served the needs of Canadian amputees, both young and old, through The War Amps. This devotion has taken him down many paths. By his own admission, some were arduous, others controversial, but each has had its special purpose.
Officially, Mr. Chadderton is known as Chief Executive Officer of The War Amps and Chairman of the National Council of Veteran Associations in Canada (NCVA). Unofficially, to the thousands of amputee children who look up to him, he is simply Cliff; to thousands of veterans across the country, Mr. Veteran.
Veteran
Mr. Chadderton lost his right leg below the knee in 1944 while in command of a company of the Royal Winnipeg Rifles, battling for the Scheldt Estuary in Belgium and Holland during the Second World War. When he returned to Canada, The War Amps was there to assist him -- as it had been for so many other amputee veterans since the First World War -- in rebuilding his life as an amputee. Until joining the Association full time in 1965, he held several impressive positions: Adviser to the Minister of Labour in veterans rehabilitation, National Secretary of the Army Benevolent Fund, and Director of the Canadian Army Financial Welfare Program.
From 1965 to 1968, he served as Secretary and Executive Director of the Woods Committee, formed to conduct an extensive study on veterans pension legislation in Canada. The final study was acclaimed as the most important of its kind since the First World War.
War Amps CEO
In 1965, Mr. Chadderton took on the full-time position of Chief Executive Officer of The War Amps. With him at the helm, the organization grew dramatically and has become known the world over for its innovative programs and ideas. For example, he expanded The War Amps Key Tag Service -- established in 1946 to provide war amputees with work at competitive wages -- into a modern-day facility with state-of-the-art equipment and computers.
The continued growth in the public's use of the Key Tag Service, has enabled The War Amps to provide more jobs for amputees and other disabled adults. It has also allowed the expansion of existing programs as well as the development of new ones, for at no time has the organization received government grants. The most revolutionary program to spring from this growth was the CHAMP Program for child amputees, in 1975.
Mr. Chadderton is also well-known nationally and internationally as a video producer. Being a war veteran and an amputee make him uniquely qualified to produce the kinds of videos that have won so many awards for The War Amps. His wartime experiences have enabled him to produce the NEVER AGAIN! documentary series. He learned to downhill ski at the age of 66 because he wanted to make a video which would inspire amputees -- both young and old -- to take up the sport as a recreational pastime. An entire series of award-winning ski videos grew from one of the first productions, The Nakiska Kids.
Chairman of the National Council of Veteran Associations
Throughout his tenure with The War Amps, Mr. Chadderton has maintained a very high profile in the veterans community. As Chairman of the National Council of Veteran Associations (NCVA), he is called upon regularly by the media to comment on veteran issues of both national and international significance.
Mr. Chadderton has a long list of credits to his struggle for veterans rights. His most recent achievement was seeing compensation granted to Canada's Merchant Navy veterans. Benefits that were received by veterans of the Armed Forces at the end of the Second World War were withheld from Merchant Seamen to encourage them to continue their service in a postwar Merchant Navy, which never came to pass. The ex gratia Merchant Navy Special Benefit, announced on February 1, 2000, and concluded on May 4, 2001, removes the "black mark" that hung over Canadian veterans programs. After Mr. Chadderton's long-standing campaign pursuing a payment in lieu of benefits for them, the Canadian government granted compensation of $104.5 million in total for qualified Canadian Merchant Navy veterans and their surviving spouses for war-related service.
Mr. Chadderton has also seen justice served for Canada's Hong Kong veterans. As prisoners of war of the Japanese, they were forced into slave labour during the Second World War. As Patron of the Hong Kong Veterans Association, Mr. Chadderton led the fight for compensation since 1987, both at the United Nations Human Rights Commission in Geneva, Switzerland and before the Canadian government in Ottawa. The December 11, 1998 announcement by the government stated that Canada would award a lump sum payment of $24,000 to each surviving member of the Hong Kong Force and to the widows as well.
Because of Mr. Chadderton's efforts, the scope of post-discharge benefits for Peacekeeping veterans was expanded. On February 16, 2000, Veterans Affairs Canada announced that Post Traumatic Stress would be recognized as a disability under the Pension Act.
Mr. Chadderton is also well-known for his challenge of the accuracy of the highly controversial CBC series, The Valour and The Horror, which offended many Canadian veterans. His efforts, backed with full support of The War Amps and NCVA, resulted in a critical report from the CBC Ombudsman concluding that the documentary was seriously flawed and failed to measure up to CBC journalistic policies and broadcasting standards.
Valued Friend
Many people throughout Canada have praised Mr. Chadderton for his valuable work. The list of his awards and achievements is extensive. On his promotion to Companion of the Order of Canada, Dr. Henry Friesen, President of the Medical Research Council, said of Mr. Chadderton:
"... For more than three decades, Hugh Clifford Chadderton has been at the helm of The War Amps. Thankfully, it has been four decades since Canadians have been injured in war. And many war amputees are now well-served by existing programs. But Mr. Chadderton looked around, and saw that there was still a need his organization could fill. It was Mr. Chadderton who developed CHAMP, a program especially for child amputees. It was a stroke of genius. Nor has he forgotten veterans. The NEVER AGAIN! series reminds us of the sacrifices made in war by people like Cliff Chadderton."
(from the
War Amps Web-Site
)
----------------- ---------------------- -------------------------
There you have it. Like I said, a "no-brainer". Who would you have picked? As we near November 11, and a time of Remembrance, I salute the men made from the same "material" as Cliff Chadderton. They are the "best of the best", and I would feel much more at ease with Cliff Chadderton as Governor General and "COMMANDER-IN-CHIEF" in a time of conflict, with no disrespect intended to the present one. I know the "GG" is also largely ceremonial, but the exposure would really help to benefit projects Cliff has been involved with.
Steve
----------------------- ---------- ------------------------------
Cliff has also published a "Memoir" of his combat experiences titled: EXCUSE US! HERR SCHICKLGRUBER (Hitler's birth name). Here is a review from a reader of the Muskoka TODAY News Magazine.
Dear Editor:
This is "The Year of the Veteran".
The Second World War ended 60 years ago, and most of the young soldiers who dashed ashore across the rocky beaches of Normandy were in their teens or early twenties. Now they are the white-haired vets in their eighties we see every November eleventh during Remembrance Day ceremonies across Canada. Their numbers are dwindling, but their story remains compelling. That story has been told with awesome realism in a book written by Clifford Chadderton, Chief Executive Officer of The War Amps. Chadderton was among the first to hit the beach on D-Day, and he led his men deep into enemy-held territory. His story is not about dates and battles, it's about the men he served with. He tells us what it was like to be knocked senseless by an exploding shell, and then blown up by a German grenade and losing a leg. Chadderton carries the scars of thirteen bullet wounds, and his book "Excuse Us! Herr Schicklgruber" is impossible to put down. It's like reading "Saving Private Ryan", except that the stories are all absolutely true, and the characters are all absolutely Canadian. Younger generation readers have expressed their gratitude for being given the opportunity to read these stories, saying that they were never able to convince their fathers or uncles to tell them about their war-time exploits. The brave young Canadians who beat the 'invincible' Nazi forces helped create the Canada we take for granted today. Chadderton's book, "Excuse Us! Herr Schicklgruber" is a must read for students of Canadian history, and anyone whose family have served with the Canadian Forces. It can be ordered by calling toll free 1-800-250-3030 or by visiting www.waramps.ca.
Ray Stone
Ottawa
The War Amps
EXCUSE US! HERR SCHICKLGRUBER
- A "must read"!
Steve's Video Of The Day: "X-Files Chopper Sequence"
Sunday, October 30, 2005
Steve's Video Of The Day: Sukhoi SU-30 Crash
Watch this aerial routine end up a little too close to the ground! The pilots eject for a short trip back to "terra firma"!
VIDEO -
Sukhoi SU-30 Crash
Saturday, October 29, 2005
Northway Fleet: Summer Of 2005
My friend Merlin Johnson, Ops. Mgr. for
Northway Aviation Ltd.
, sent me some pics of Northway's fleet during the Summer of '05. Let's check them out!
1953 C-180 CF-HDL!
------------------ ------------ -------------------------
HDL, earning her keep.
---------------------- -------------- ------------------------
C-185, CF-ZZP.
------------------------ ------------- -------------------
-------------------------- ------- ----------------------
I have flown this aircraft in the past on floats, wheels, and skis.
---------------- ------------------ --------------------------
Good old de Havilland Beaver CF-QQG!
--------------- ------------ ----------------------------
QQG, on "sentry" duty!
---------------- -------------- ------------------------------
I have flown this aircraft in the past on floats, wheels, and skis.
----------------------- ------------------- -------------------------
Inmates from the Interlake Mental Health Hospital prepare to embark on a fly-in fishing trip, this photo being reminiscent of a scene from "One Flew Over The Cuckoo's Nest"......
------------------- -------------------- -----------------------
Just kidding, folks. This is the outstanding Northway 2005 Flight Crew........
---------------------- ---------------- ---------------------
And last, but not least, 1966 de Havilland Otter, S/N 456, CF-UKN, stands guard over the fleet. I have flown this aircraft in the past on floats, wheels, and skis.
----------------- ------------------- ---------------------------
Some images from the eventful Summer of 2005. Thanks for the pics, Merlin!
Steve's Video Of The Day: F-16: In The "Hot Seat"! (Literally)
Friday, October 28, 2005
"Hurricane Katrina" Affects Riverton, Manitoba!
Hurricane Katrina rampaged across "The Gulf", and Louisiana took the hardest hit. After it was all over, places in Louisiana looked similar to the aftermath of the Third Punic War, when the Romans "sacked" the Phoenician city of Carthage. Anyways, any populated area that is below sea level and diked, well, it is a roll of the dice when dealing with Mother Nature.
Here in Manitoba, we have an abundance of water, and many communities adjoin Lake Winnipeg, Lake Manitoba, and Lake Winnipegosis, or adjoin drainage systems leading to these great "Inland Seas". Experiencing heavy rains, and swollen water levels for the last 3 years, Emergency Services Manitoba finally has decided to act, and is restoring the dikes around the communities to pre-1974 levels, which should protect most communities forever (touch wood). Obviously, everyone saw the destruction Hurricane Katrina caused, and it was immediately after this event that Emergency Services really mobilized. Hurricane Katrina, in my eyes, was a decided factor in what is happening today in Manitoba. Check out the activity down-river from my property.
The "picturesque" Icelandic River........
------------------ ------------------ ------------
"Diking" under way.........
----------------- ------------------ ----------------
Thousands upon thousands upon thousands of cubic yards of material are being dumped by trucks such as this one from Glenko Enterprises of Arborg.
--------------- --------------------- -----------------
Most of the work is being accomplished with small loaders, such as this Kubota-powered 50 HP Thomas 153 Skid-Steer Loader.
------------ ---------------------- ------------------------
Or this Deutz-powered 80 HP Gehl 6635 Skid-Steer Loader.
--------------------- --------------- ---------------------
The boys are hard at work, shaking the shit out of their bladders and kidneys......
--------------- --------------------- -------------------
In the spring, Emergency Services will contract out the application of topsoil and grass seed.
------------------ ----------------------- ----------------
Most of the dike "trimming and finishing" is being performed by my friend Stefan Ostertag, owner of Keystone Kerbs Inc..
---------------------------- ------------------ -----------------
Stefan in his John Deere-powered, turbocharged diesel-engined, 66 HP Deere 320 Skid Steer Loader.
------------- ---------------------- --------------------------
So, you see, Hurricane Katrina even affected the "hamlet" of Riverton, as well as affecting millions of others. I think it really made some bureaucrats uneasy about "who would share the blame" if a major flood happened here, so they got busy. Anyways, they should be at my property soon, so I will post some before and after pics.
"Adios"!
(Oh yeah, one more thing. I renewed my Category 1 MOT Medical on Wednesday, and I was going by St. Andrews Airport on the way home, and I thought I would take a quick drive through the airport area to see if there were any "real" airplanes around. Well, in front of Custom Helicopters, my heart skipped a beat! There was a real airplane at St. Andrews, although she was old, frail, and years of hard-work and facing the elements had worn her down. Her days are numbered, as oxidation and moisture are claiming her, and some of her "appendages" are missing. I salute the old girl, she deserves better than what she is getting in her twilight years! If only she could talk, her stories would hold you spell-bound!)
For shit's sake, an old Noorduyn Norseman!
-------------- ----------------- ---------------------
Time has worn her down.
----------------------- ------------- --------------------
As I approached her, I felt remorse and sadness at what she had become.
----------------- ---------------------- ----------------------
A disgraceful way to treat an "Elder"....Hopefully, old "Bush Rats" don't end up in this shape........ ...... ... ..
Steve's Video Of The Day: Beriev Be-200; "One More Time!"
Thursday, October 27, 2005
Iran, A "Festering Coagulation" Of "Brainwashed Zealots"........
Today, I won't get into the controversy of whether or not the U.S. and her Allies "should", or "shouldn't be", in Iraq. We could debate till we were "blue in the face", but history will be the storyteller sometime in the future. Anyways, next door to Iraq, sits Iran. Yes, you know, Iran! That shining example of humanity that the world looks up to. Free Speech, Women's Rights, and Freedom of Religion are the "pillars" that the Iranian country is built upon. "Peace and Goodwill" is their National Motto. They also have a President who is trying to be a "peacemaker" in the region. Here is a news clip from Yahoo!-News.
------------------ ---------------- ----------------

Iran Leader Calls for Israel's Destruction

By NASSER KARIMI, Associated Press Writer
Wed Oct 26, 3:34 PM ET



TEHRAN, Iran - President Mahmoud Ahmadinejad declared Wednesday that Israel is a "disgraceful blot" that should be "wiped off the map" — fiery words that Washington said underscores its concern over Iran's nuclear program.

Ahmadinejad's speech to thousands of students at a "World without Zionism" conference set a hard-line foreign policy course sharply at odds with that of his moderate predecessor, echoing the sentiments of Ayatollah Ruhollah Khomeini, the founder of Iran's Islamic revolution.

The United States said Ahmadinejad's remarks show that Washington's fears about Iran's nuclear program are accurate.

"I think it reconfirms what we have been saying about the regime in Iran," White House press secretary Scott McClellan told reporters in Washington. "It underscores the concerns we have about Iran's nuclear intentions."

Ahmadinejad also condemned Iran's neighbors which seek to break new ground in their relations with Israel. "Anybody who recognizes Israel will burn in the fire of the Islamic nation's fury," state-run television quoted him as saying.

Relations between Israel and several Persian Gulf states have been thawing amid Israel's withdrawal from the Gaza Strip in September. Bahrain announced in September it was ending a decades-old law banning trade ties with Israel. In October, Qatar said it was donating $6 million to help build a soccer stadium for a mixed Arab-Jewish team, the first such financial assistance by an Arab state for any town inside Israel.

Israel has been at the forefront of nations calling for an end to Iran's nuclear program, which the United States and many others in the West say is aimed at acquiring weapons of mass destruction. Iran insists the program is for generating electricity.

Referring to Palestinian suicide bomb attacks in Israel, Ahmadinejad said: "there is no doubt that the new wave in Palestine will soon wipe off this disgraceful blot from the face of the Islamic world."

Ahmadinejad's speech came hours before a Palestinian suicide bomber blew himself up in the Israeli town of Hadera, killing five people. Iran aids several militant Palestinian groups, including Hamas and Islamic Jihad, with support and training through proxies among Lebanese Hezbollah guerrillas.

"Ahmadinejad has clearly declared the doctrine of his government," said Mohammad Sadeq Hosseini, an expert on Middle Eastern affairs. "He is returning Iran to the revolutionary goals it was pursuing in the 1980s."

Reacting to the Iranian president's speech, Israeli Foreign Ministry spokesman Mark Regev said Ahmadinejad and Hamas leader Mahmoud Zahar "speak openly about destroying the Jewish state ... and it appears the problem with these extremists is that they followed through on their violent declarations with violent actions."

Ebrahim Yazdi, a former Iranian foreign minister, said Ahmadinejad's remarks harmed Iran.

"Such comments provoke the international community against us. It's not to Iran's interests at all. It's harmful to Iran to make such a statement," he said.

In Madrid, Spanish Foreign Minister Miguel Angel Moratinos summoned Iran's ambassador to protest Ahmadinejad's comments. Moratinos said he rejected the remarks in the strongest possible terms.

French Foreign Minister Jean-Baptiste Mattei also condemned the remarks "with the utmost firmness."

Ahmadinejad became president in August after winning elections two months earlier. He replaced Mohammad Khatami, a reformist who advocated international dialogue and tried to improve relations with the West.

Iran announced earlier this year that it had fully developed solid fuel technology for missiles, a major breakthrough that increases their accuracy. The Shahab-3, with a range of 810 miles to more than 1,200 miles, is capable of delivering a nuclear warhead to Israel and U.S. forces in the Middle East.
-------------------------------------------------------------------------

All sarcasm aside, it is time for the world community to get off of their "collective asses" and unite in the strongest sense, and warn Iran in the strongest terms. Let them know that if they are seeding unrest and supplying arms to terrorists, they will be dealt with severely. The "Mullahs" are bent on "Islamofascism for everyone", or "world destruction". Maybe the U.S., Britain, and Australia are the only countries smart enough to see the warning signs, and actually "Get It!"

A Page From The "Hunting Hall Of Fame": Justin vs. "The Moose"
Today I received an e-mail from my brother Mike, in Prince Rupert, B.C.. It seems he and his son Justin went moose hunting, and Justin was successful. I have posted before about Justin and Mike in
Thunderstix's 14 Year Old Boy Gets His First Big Game. Oct.29, 2004
, where Justin bagged a deer, and in
Justin And Mike Finally Get Their "Goat"!
, where Justin gets his own goat (instead of his Dad's)! Well, it seems Justin is having a good year, and hear is the latest installment in the "Saga Of Justin And Mike"!
------------ ------------ --------------------
Hi Steve,
I have been mum about this as I was waiting for my pictures to accompany the story. We went to my favourite little island on the Skeena River on opening day (Oct 20th). We scared up a moose within 5 minutes but did not get a look at it. We slogged our way through a ton of brush, etc., and scared up two more but did not see them clearly as they hightailed it into the thickness. We met up with the other father/son team and they had a bull less than 30 yards away in the alders, but were reluctant to shoot in case of deflection. We then set off again and hunted the area they had seen the bull in but to no avail. I said to Justin that we would maybe just hunt our way back to the boat on the other side of the island and go somewhere else. I just happened to look down-stream towards the next island and I saw something dark in the bushes at the edge of the river bank. It was probably nothing, I said to myself, (we were about 800 yards away at this point) but put my spyglasses to my eyes regardless, and "lo and behold", it was the butt of a moose. We began to run down the beach and within 4 or 5 minutes we were as "across" from it as we could be. Justin found a good log and got a rest. We still did not know if it was a bull or not as it had walked into the bush and we could no longer even see it. 20 seconds later, out it steps to feed and it has horns!!! "Holy crap", we are excited. Justin has my .375 H&H, shooting 300 grain Nosler Partitions with 75.5 grains of WW-760 in his hands. I tell him to take his time and when he is ready, shoot it behind the front shoulder. ( Just kidding, I never said "front" shoulder). He said he was ready so I said "go ahead". He shot and I watched the moose lurch and then 7 seconds later he fell over out of sight. We had about 10 high-5's. I wondered how far it was so I pulled out my Yardage Pro 800 and it was 246 yards! Pretty good shooting! Right through the bottom of the heart. I then went off to cross to the other side of the island for the Zodiak while Justin waited there and watched just in case. When I got to him with the Zode it broke down (throttle linkage broke) and we had to paddle like mad to get to the moose (actually had to semi portage 2 channels). We gutted the moose and then paddled back across to our own island, tied up the boat and then walked back across so we could see the highway. We then flagged over another boat and they took us back to the boat launch. We came back the next day and got our moose.
HOLA! Is it ever tender!!!! I am going to try and fill my own tag during the November 16-20 Bow Only hunt. In less than one year Justin has taken his first deer, mountain goat, and now moose.
Mike
Moose "resting place"........
------------ ----------------- ------------
Mike poses with Justin's moose........
------------- -------------- ------------------
Justin, proud hunter, and "crack shot"........
----------- --------------- ---------------
Butchering the moose........
------------ --------- ------------------
There you have it, folks, thanks to Mike for the story and photos, and "Congratulations Justin"!
Steve's Video Of The Day: Beriev Be-200 "Take-Off"!
Yesterday I touched on the great design of the amphibious Beriev Be-200 twin-jet. It can be used for firefighting, anti-submarine patrol, as a freighter, passenger transport, and numerous other utility configurations. Fantastic design!
SPECIFICATIONS - BERIEV BE-200 AMPHIBIOUS MULTI-ROLE TWIN-JET AIRCRAFT, RUSSIA
Dimensions:
Length 31.43m
Height 8.90m
Wingspan 32.78m
Tailplane span 10.11m
Fuselage length 29.18m
Fuselage diameter 2.86m
Cabin Dimensions:
Cabin floor area excluding flight deck 39.00m²
Passenger cabin length 17.00m
Passenger cabin width 2.40m
Passenger cabin height 1.80m
Cargo cabin length 17.00m
Cargo cabin width 2.60m
Cargo cabin height 1.90m
Weights:
Maximum take-off weight 37,200kg
Maximum landing weight 35,000kg
Maximum airborne weight after water scoop 43,000kg
Payload 7,500kg
Fuel 12,260kg
Performance:
Maximum level speed at altitude 7,000m 720km/h
Never exceed speed, VNE 610km/h
Service ceiling 8,000m
Service ceiling, one engine inoperable 5,500m
Runway 1,800m
Take-off from runway 700m
Landing from 15m on runway 950m
Take-off on water 1,000m
Landing from 15m on water 1,300m
Water scooping distance to 15m 1,450m
Noise:
Take-off operational noise level 96EPNdB
Climbing operational noise level 90EPNdB
Landing operational noise level 98EPNdB
VIDEO -
Beriev Be-200 "Take-Off"!
Wednesday, October 26, 2005
Steve's Video Of The Day: Russian "Float-Plane"!
Sikorsky (originally), Mikoyan, Antonov, Tupolev, Ilyushin, Gurevich, Sukhoi, Yakovlev, man, the "Russkies" sure had some outstanding aircraft designers, to name a number from the top echelons. Russian aircraft were designed for a minimum of maintenance, and to be able to operate from unprepared areas in heavy climate. Fully supported by the government (totally unlike Canada, where the Feds will do anything to impede, shut you down, and bury you), the designers were given reign to experiment, and were encouraged to explore their ideas. Yes, the Russians came up with some amazing designs, and most of them worked. Check out a Russian Float-Plane, or Flying Boat, or Water-Jet, or whatever you wish to call it, a fertile mind designed the Beriev Be-200. Beriev is a Russian company formed in 1934 that specializes in amphibious aircraft.
VIDEO -
Russian "Float-Plane"!
Tuesday, October 25, 2005
Rudy Repairs Beaver C-GJJG's Float!
"The wind in the wires, made a tattle-tale sound, as the waves broke over the railings.....And every man knew, as the Captain did, too, t'was the witch of November come stealing..............."! Gordon Lightfoot's masterful piece about the sinking of the
Edmund Fitzgerald
played on the radio as I gazed out the window towards the Float Base in the late evening. The irony was not lost on me as the wind had picked up from the west-southwest, and was now starting to howl. The waves were crashing over the fixed crib dock, and the 2 airplanes (Cessna 180 CF-LDW and Beaver C-GJJG) and floating docks undulated wildly. "Wind" vs. airplanes is bad enough, but "wind and water" vs. airplanes can be catastrophic. It would be a long night, checking the airplanes and the mooring ropes periodically.
It was summer, 1987, and we had been receiving some awful thunderstorms. They would build southwest of Lake Winnipeg over the prairie, churn across Lake Winnipeg picking up more moisture and intensity, and head inland, sometimes flattening anything in their paths. The evening in question, they came howling through the Little Grand Rapids area like the "Tasmanian Devil" on "earthquake pills". The best we could do was make sure the airplanes were secure, and keep the floats pumped, and get wet. We monitored the planes until 2 AM, then the wind backed-off somewhat, and we retired for some needed shut-eye. Murphy's Law was at work, though, and at 5 AM, the storms attacked us again like a "marauding horde of Mongols". Awakened, we headed back down to the docks on our meager 3 hours of sleep. 2 hours of battling, and the storms finally broke. Weary and soaked, we surveyed the airplanes. Both were still upright and floating, but JJG had crumpled her float against the dock. "Shit!" Still, better than sitting at the bottom of Family Lake.
The airplane remained afloat, but the rear compartment on the left side was badly damaged. I guess I would get an unscheduled trip to Riverton, as our Contract Maintenance was done by Rudy Eastman, a Lake Winnipeg fisherman and long-time "Bush Mechanic". The old Bush Mechanics had many skills that you don't see in the industry today. Anyways, I called Rudy and he said to bring the aircraft to his hoist on the Icelandic River in Riverton, Manitoba. We shoved a rag in the damaged float, pumped it out quick, and I was airborne!
I made Riverton in about 40 min., and taxied into the boat launch as Rudy prepared his hoist. JJG would come out of the water for this repair. We hooked her up, and lifted her out. Rudy went right to work!
Riverton, Manitoba
-------------------------------------------------------------------------
Rudy, and his son, Michael "Crowbait" Eastman, work on JJG!
-----------------------------------------------------------------------
I pose beside JJG's damaged float. Crap, I was uglier then than I am today!
-------------------------------------------------------------------------------
JJG's damaged float up close.
----------------------------------------------------------------------------
Hot, sunny day, float repair accessories.......
------------------------------------------------------------------------------
Rudy has the damage cut away, just like a surgeon........
-------------------------------------------------------------------------
Repair under way........
-----------------------------------------------------------------------
Fine work!
----------------------------------------------------------------------
Just about done! Then, evening descended on us, and it was time to call it a day. "Crowbait" ran to the "Vendor" for a 24-pack of "liquid intellect". We enjoyed the evening, the water, and some other friends joined us, and it turned into a "riverside party"!
--------------------------------------------------------------------------
The party continues, as JJG and my old 1970 Dodge look on, as a boat cruises down the river in the background. There is just something about "being by the water".............
------------------------------------------------------------------------
The next morning, Rudy finishes off the repair. I was in town procuring a load to fly north with. Within a couple of hours, I was back at home base, unloaded, and airborne again, winging some fishermen out to a cabin in the bush.....Just another memory from the "jumbled volumes" of memories from my "mental library".........
Till next time,
"Adios"...........
(PS - My good friend Wayne Letkeman, General Manager of
Thunderbird Lodge And Outposts
sent me an e-mail and a photo today, and here they are:)
---------------------------------------------------
To: otterflogger@yahoo.com
Subject: Photo
Date: Tue, 25 Oct 2005 10:40:32 -0500
Saw your photo of shadow image in your website. Thought you might like
to see the attached photo. Pilots will often see such images but
passengers seldom do. The photo was taken from my aircraft by Mr. Bill
Seniuk. The photo was taken over Headleaf lake with a layer of fog
below.
Wayne Letkeman
General Manager
Thunderbird Lodge & Outposts Ltd.
P.O. Box 129
Lac du Bonnet, MB R0E 1A0
Ph. 1-204-345-0188
Fax 1-204-345-0189
Email- tbird@lincsat.com
Web - www.thunderbirdlodge.com
-------------------------------------------------------------
Fine photo of Cessna 180 C-FSAE shadow outlined by a rainbow!
Thanks for the photo, Wayne!
Monday, October 24, 2005
"Surgery" Is Necessary........
One unplanned positive thing about having a "blog" is receiving e-mails from fellow aviation, de Havilland, and float and ski flying "bush" enthusiasts. A lot of them have their own great stories and pics, and are a wealth of information. A few days back I received an e-mail from Clive Pearce, a New Jersey resident, who has a love of Cessnas, Beavers, and Otters. He spends time in Northern Ontario also, and has an attachment to the region. Well, he sent me some pics of a grand old lady that had some trouble during the "touchdown" of a "forced landing". The aircraft overturned due to the shallowness of the water (as you will see), but was salvaged, and apparently will be flying again soon. The incident took place somewhere in British Columbia. The S/N is #397, and my research leads me to believe that this is DHC-3 Otter C-FQEI. The accident took place in the past year, and the aircraft had been operated by
Air Nootka
.
C-FQEI in an extremely "unfortunate" attitude. Notice the depth of the water, although if this is a tidal bay, the level would fluctuate.
Back on shore, with a few "wrinkles" in her. "Ladies" hate wrinkles!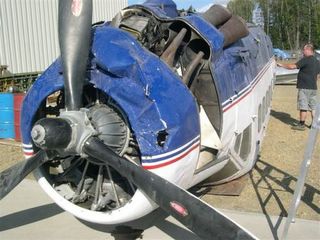 Seriously injured, surgery is necessary for C-FQEI. Soon, though, she will return to the skies with a clean "bill of health".

Hate to see an Otter laid up, but I am sure it won't be long before she is up and "corkscrewing" through the skies again. One thing about Otters, they can sure "take a flogging, and keep on logging"! Thanks for the pics and info Clive, till next time, "Adios"!
Sunday, October 23, 2005
Steve's Video Of The Day: The "Marines" And The "Harrier"
When there is a trouble spot on earth that needs some attention, the Marines are the first on the scene. From Iwo Jima, to Inchon, to Iraq, the Marines know how to get it done! "Semper Fi"!
VIDEO -
The "Marines" And The "Harrier"
(Semper Fidelis is a Latin motto translating to "always faithful". It is the motto of the United States Marine Corps, the amphibious infantry element of the United States Navy, who often reduce it to Semper Fi; the motto signifies the dedication that individual Marines are expected to have to "The Corps" and to their fellow fighting men and women, for the rest of their days and beyond.)
Saturday, October 22, 2005
Steve's Video Of The Day: de Havilland Canada DHC-5 "Buffalo"!
de Havilland Canada made some outstanding products, and the DHC-5 was named the "Buffalo". It looked similar to the "Caribou", but with new innovations and turbine engines. It's payload was greatly increased. 126 were built.
SPECIFICATIONS
Country of Origin: Canada (DHC-5, CC-115)
Similar Aircraft: C-7A Caribou
Role: STOL transport, cargo (41 troops, 1/4-ton vehicles, and freight)
Armament: Usually none
Length: 79 ft (24.08 m)
Span 96: ft (29.26 m)
Wing area: 945 sq. ft.
Height: 28 ft. 7 in.
Weights: Empty, 22,400 lbs. Gross, 38,000 lbs.
Power Plant: Two General Electric T64-10 turbine engines @ 2,850-ESHP (Equivalent Shaft Horsepower) at take-off.
Crew: Three
Accommodation: 41 fully equipped troops or 35 paratroopers
USER COUNTRIES: Abu Dhabi, Brazil, Cameroon, Canada, Ecuador, Egypt, Ethiopia, Honduras, Kenya, Mauritania, Mexico, Oman, Peru, Sudan, Tanzania, Togo, United Arab Emirates, USA, Zaire, Zambia.
Watch a Buffalo from the Egyptian Air Force landing in Prague, Czechoslovakia, right at home in a meteorological condition she is familiar with, "SNOW"!
VIDEO -
de Havilland Canada DHC-5 "Buffalo"!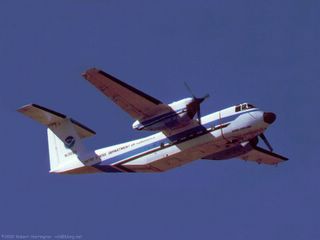 Fine piece of work by de Havilland Canada.

Friday, October 21, 2005
Steve's Video Of The Day: Blue Angels Perform!
The Blue Angels are the U.S. Navy and Marine Corps aerial flight demonstration team. Contrary to popular belief, the team mission is not to "wow" everybody at airshows and allow pilots to walk around with large "heads and egos". The actual mission is to enhance Navy and Marine Corp recruiting, and represent naval service. The team members also serve as positive role models, and goodwill ambassadors. The "best of the best", so to speak. They had an impact on me, as I can remember as a young kid growing up on Vancouver Island I was given a Blue Angels assembled model aircraft by an older neighbour, Mark Syme. Shit, I was only 5 or 6 at the time, but I remember the aircraft. It was an F-11 Tiger, and I also remember when they started flying the F-4 Phantom.
The Blue Angels were the brainchild of Admiral "Chester" W. Nimitz, in 1946. Their first aircraft was the F-6 Hellcat. Today, they fly the outstanding F-18. I would give my "left nut" to be a Navy or Marine pilot, and... "Hey, I have had all my kids already! I would give both nuts!" Hmmm..... "On second thought, I would lose my deep voice, and also walk funny!" No, my time is past, but what a great opportunity and career await some young men and women with the determination, desire, and drive. With the decline in recruiting in the U.S., due basically to the turmoil in the Middle East, there will be some awesome opportunities available to those with the "sense of duty" to serve. Go for it! At the end of your career, many years hence, you will look back, and have a lifetime of memories and accomplishments. President Reagan summed it all up in one quote, which I believe applies to all the military;
"Some people spend an entire lifetime wondering if they made a difference. The Marines don't have that problem" -President Ronald Reagan
WEB-SITE -
The Official Blue Angels Web-Site
VIDEO -
Blue Angels Perform!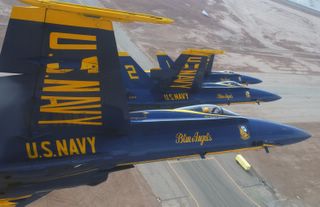 Blue Angels!

A picture of perfection.

The Angels with their C-130 Hercules.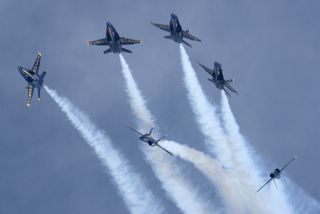 Peel-off!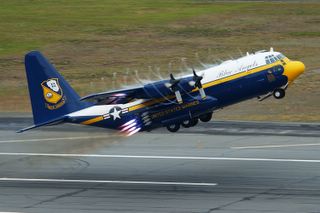 JATO (Jet Assist Take-Off) Packs blazing, and visible "vortices" leaving the props, the Angels Herc takes to the skies!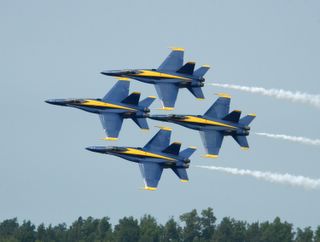 Sleekness defined.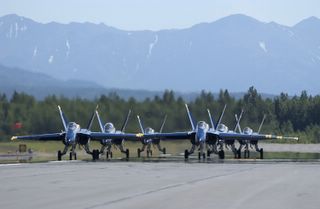 "Taxi to position".........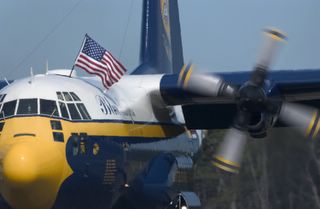 Angels Herc and "Old Glory".......Boy, I sure wish Canada was a country of flag-wavers, but, alas.....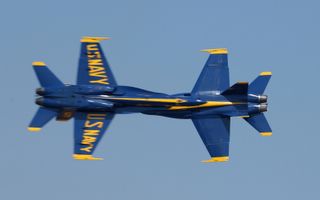 Precision defined.

Inverted.......

Heading for the skies.

"Over the top"..........







Outstanding photos, detailing what could be a very challenging and rewarding career. Check it out, young people. Contact info is on the web-site. Yes, the "Chester Nimitz Air Force" (Blue Angels) put on a great show!
Till we meet again, "Adios!"