Wednesday, June 22, 2005
"Wet Weather" Means "No Fires"
We have had beautiful weather for the last number of days, but our spring was very wet. For the past number of years, Central Manitoba has seen an under-average number of forest fires due to the wet weather. Not so in other parts of the country. Prolonged drought in Alberta for a number of years, Kelowna in B.C. burning up last year, and this spring Quebec on fire. I received an e-mail from my good friend Karen Johnston from
Northway Aviation
yesterday, of some nice photos of fire action near Chibougamau, Quebec. Also, I noticed the e-mail had originated with another friend of mine, who I haven't seen in years, Doug Gerrard. Anyways, here are the photos.
Oh-oh!!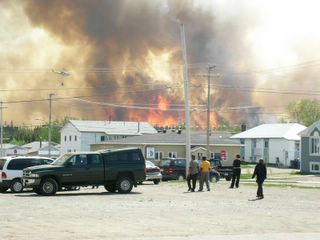 A little too close to town........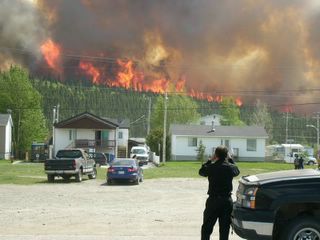 Tinder-dry forest.........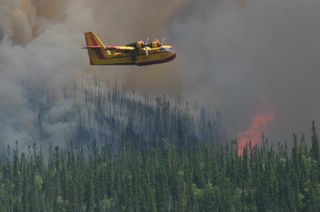 A good old Canadair CL-215 to the rescue............!!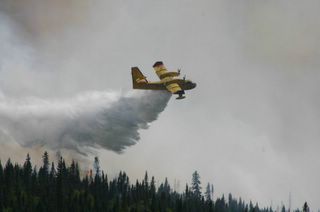 A Canadair CL-415 dropping........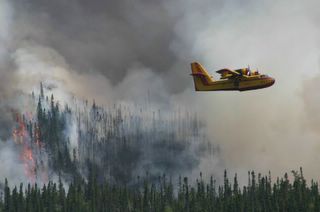 CL-215 climbs after a drop........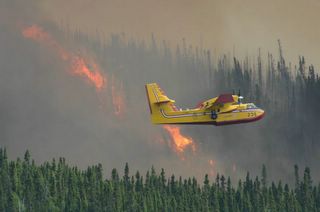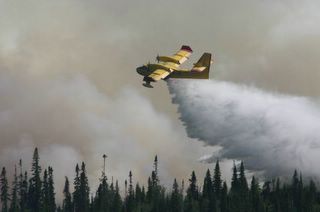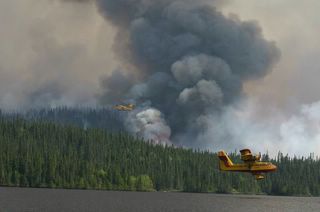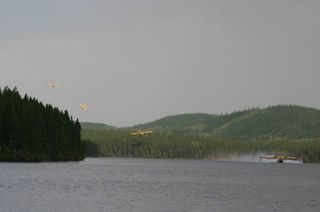 The "Bird Dog" is doing a good job controlling these airplanes........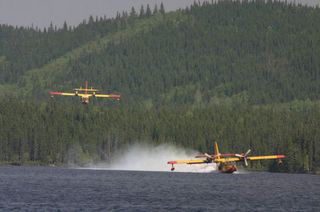 Picking up water, props "in sync"..........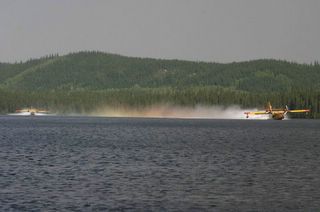 Two fine ships protecting communities and resources......

So, as you can see, we "piss and moan" about the wet weather, while somewhere else some community is in danger from fire. I am sure the good citizens of Chibougamau would love some of our rain. Anyways, very fine photos, thank you Karen, and thank you Doug!
CANADAIR CL-215 SPECIFICATIONS
Speed 175 mph (150 knots) Cruise
143 mph (125 knots) Drop
Length 65 feet
Wingspan 93 feet 10 inches
Height 29 feet 3 inches
Retardant Capacity
(2 separate compartments) 1200 gallons or 5455 litres
(each compartment holds
600 gallons or 2728 litres)
Foam Tank 150 gallons
Twin-multi engine
Pratt & Whitney (R2800) 2100 HP/engine
Operational Endurance 4.0 hrs
SPECIFICATIONS - BOMBARDIER CANADAIR 415 SUPERSCOOPER AMPHIBIOUS AIRCRAFT, CANADA
Dimensions
Length 19.82m
Wingspan 28.63m
Height 8.98m
Height on water 6.96m
Draught with wheels retracted 1.12m
Draught with wheels down 2.03m
Flight crew 2
Cabin Dimensions
Cabin length, excluding cockpit 9.38m
Maximum cabin width 2.39m
Floor area, excluding cockpit 19.69m²
Maximum height 1.90m
Cabin volume 35.59m³
Engines
Turboprop engines 2 Pratt & Whitney Canada PW123AF
Power 1,775kW
Propeller diameter 3.97m
Performance
Manoeuvre limits (15° flap) +3.25g to -1g
Cruise speed at 1,500 metres 365km/h
Cruise speed at 3,000 metres 376km/h
Take-off distance in water (all up weight 17,170 kg) 814m
Take off distance on land (all up weight 18,597 kg) 783m
Landing distance on water (all up weight 16,783 kg) 665m
Landing distance on land (all up weight 16,783 kg) 675m
Scooping distance (including safe clearance heights) 1,340m
Water scoop time 12s